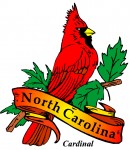 Here are some fun North Carolina facts:
The state capital is Raleigh.
The largest city is Charlotte.
State motto is "To Be Rather than to Seem"
State nickname is the Tar Heel State.
State flower is the Flowering Dogwood.
State bird is the Cardinal.
State animal is the Gray Squirrel.
The oldest state university in the USA is the University of North Carolina at Chapel Hill.
Mystery authors who are found on the Cozy Mystery Site who feature North Carolina locations in their books:
Ellery Adams: Books by the Bay Mystery Series: Olivia Limoges and her Standard Poodle Capt. Haviland are joined by the Bayside Book Writers Club sleuths.
Ellery Adams (aka J.B. Stanley, Jennifer Stanley, & early Lucy Arlington): Secret, Book & Scone Society Mystery Series – Nora Pennington owns the Miracle Books shop and is able to pick out just the right books for her clients who are in pain. This series is set in Miracle Springs, North Carolina.
Lucy Arlington (co-written by Jennifer Stanley & Sylvia May) (Jennifer Stanley aka J. B. Stanley & Ellery Adams): Novel Idea Mystery Series: Lila Wilkins is a middle-age journalist who has been let go from her job, who then goes to work as an intern at a literary agency.
Donna Ball: Raine Stockton Mystery Series: Raines is an ex-tracker and Cisco is her Golden Retriever.
Sandra Balzo: Main Street Mystery Series: AnnaLise is a reporter who moves to a resort town in North Carolina.
Jessica Beck: Donut Shop Mystery Series: Suzanne Hart owns the Donut Hearts Coffee Shop.
Maggie Bishop: The Appalachian Mystery Series features the daughter of the owners of a guest ranch house.
Chris Cavender (aka Elizabeth Bright, Melissa Glazer, & Tim Myers): Pizza Mystery Series: Eleanor Swift owns the Slice of Delight Pizzeria.
Elizabeth Craig (aka Riley Adams & Elizabeth Spann Craig) writes the Southern Quilting Mystery Series, which is set in North Carolina.
Chris Forman: Ian Wallace Mystery Series: Ian is a food writer and photographer.
Eva Gates: The Lighthouse Library Mystery Series: Lucy Richardson is a librarian on an Outer Banks island.
Victoria Gilbert: Book Lover's B&B Mystery Series: starring Charlotte Reed, the owner of a B&B in Beaufort, North Carolina.
Ellen Elizabeth Hunter: Magnolia Mystery Series: Ashley Wilkes preserves historic homes and her sister, Melanie Wilkes, is a realtor.
Toni L.P. Kelner: Laura Fleming Mystery Series: Laura is a computer programmer who solves crimes whenever she visits her home town.
Vicki Lane: Elizabeth Goodweather Mystery Series: Elizabeth owns a farm and solves crimes while seeding her crops.
Joyce and Jim Lavene: Missing Pieces Mystery Series: Dae O'Donnell is the mayor/sleuth AND Sheriff Sharyn Howard Mystery Series AND Peggy Lee Garden Mystery Series: Peggy Lee owns the Potting Shed Garden Shop.
Kathryn Lilley: FAT City Mystery Series: Kate Gallagher is a little overweight, and a TV journalist/sleuth.
T.C. LoTempio: Cat Rescue Mystery Series – Sydney McCall returns to Deer Park, North Carolina to help her sister, Kat, run the local animal shelter.
Margaret Maron: Deborah Knott Mystery Series: Deborah is a  judge, with a penchant for the truth.
Carol Ann Martin: Weaving Mystery Series: Della Wright is the owner of a weaving shop where she teaches weaving (and sleuths!)
Casey Mayes: (aka Elizabeth Bright, Melissa Glazer, Chris Cavender, & Tim Myers): Math Puzzle Mystery Series
Donna McLean: Sparrow Falls Mystery Series 
Ruth Moose: Beth McKenzie Mystery Series: Beth McKenzie is the owner of Dixie Dew Bed and Breakfast in Littleboro, North Carolina.
Katy Munger (aka Gallagher Gray): Casey Jones Mystery Series: Casey is a private eye.
Tamar Myers: Den of Antiquity Mystery Series: Abigail Timberlake owns an antique shop and sleuths for bargains and crimes.
Tim Myers (aka Elizabeth Bright, Melissa Glazer, Casey Mayes, & Chris Cavender): Lighthouse Inn Mystery Series: Alex Winston owns the Lighthouse Inn.
Barbara Neely: Blanche White Mystery Series: Blanche is a housekeeper in North Carolina.
Chessen Parker: Crystal Coast Mystery Series: Clara Dare Ivankova is a lawyer/sleuth who lives in a coastal village in North Carolina.
Ann B. Ross: Miss Julia Mystery Series: Miss Julia may be "of a certain age" but she lives and sleuths like she is a whole lot younger.
Mark Schweizer: Liturgical Mystery Series: Hayden Konig wears a lot of hats: he's a small town police chief who has to keep the peace while playing the organ and directing the choir at his Episcopal church.
Sarah R. Shaber: Professor Simon Shaw Mystery Series: Simon is a history professor/sleuth.
Elizabeth Daniels Squire: Peaches Dann Mystery Series: Peaches is a quinquagenarian/sleuth.
J. B. Stanley (aka Jennifer Stanley, Lucy Arlington, & Ellery Adams): Collectibles Mystery Series: Molly Appleby is a reporter for an antique/collectibles magazine.
Sharon Wildwind: Pepperhawk/Avivah Rosen Mystery Series: Elizabeth "Pepper" Pepperhawk is an Army nurse who returns from Vietnam.
Please feel free to comment if you see an author from the Cozy Mystery Site who belongs on this list, or if you have any corrections.
♦To access more Cozy Mysteries by Theme click on this link.♦