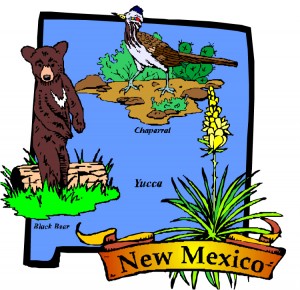 Here are some Fun New Mexico Facts:
State Motto: "It grows as it goes" ("Crescit eundo")
State Flower is the Yucca.
Capital is Santa Fe.
Largest City is Albuquerque.
State Bird is the Roadrunner.
State Nickname is "Land of Enchantment"
New Mexico got its name as a reference to Mexico by the Spanish.
The Four Corner Monument can be found in Colorado, Utah, Arizona, and New Mexico.
New Mexico's official state animal is the Black Bear, in honor of the little cub that was found in a fire in 1950. The cub became Smokey, the Bear.
During the first weekend in October, the world's biggest enchilada is made in Las Cruces. Yum!
Mystery authors who are found on the Cozy Mystery Site who feature New Mexico locations/settings in their books:
Sandi Ault: Wild Mystery Series
Vannetta Chapman: Jacobs Family Mystery Series
Alice Duncan: Annabelle Blue Mystery Series
Tony Hillerman: Joe Leaphorn & Jim Chee Mystery Series
Michael McGarrity: Kevin Kerney Mystery Series
Ann Myers: Santa Fe Cafe Mystery Series
Paula Paul (aka Paula Carter): Irene Seligman Mystery Series
J. Michael Orenduff: Pot Thief Mystery Series
Carolyn J. Rose: Casey Brandt Mystery Series
Walter Satterthwait: Joshua Croft Mystery Series
Maria E. Schneider: Catch an Honest Thief AND Under Witch Moon
Connie Shelton: Charlie Parker Mystery Series AND Samantha Sweet Mystery Series
Pari Noskin Taichert: Sasha Solomon Mystery Series
Aimée and David Thurlo: Sister Agatha Mystery Series AND Ella Clah Mystery Series AND Lee Nez Mystery Series
Judith Van Gieson: Claire Reynier Mystery Series AND Neil Hamel Mystery Series
Please feel free to comment if you see an author from the Cozy Mystery Site who belongs on this list, or if you have any corrections.
♦To access more Cozy Mysteries by Theme click on this link.♦