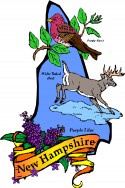 Here are some New Hampshire facts:
The capital is Concord.
The largest city is Manchester.
State motto is "Live Free or Die."
State nickname is Granite State.
State flower is the Purple Lilac.
State bird is the Purple Finch.
Mystery authors who are found on the Cozy Mystery Site who feature New Hampshire locations/settings in their books:
Lorna Barrett (L.L. Bartlett): Booktown Mystery Series
Joanne Clarey: Hummingbird Falls Mystery Series
Jane K. Cleland:  Josie Prescott Antiques Mystery Series
Jessie Crockett: Sugar Grove Mystery Series AND Granite State Mystery Series'
Leighann Dobbs: Mystic Notch Cozy Mystery Series
Shelley Freydont: Sudoku Mystery Series
Delia James: Witch's Cat Mystery Series
Steve Sherman: New England Cozy Mystery Series
Please feel free to comment if you see an author from the Cozy Mystery Site who belongs on this list, or if you have any corrections.
♦To access more Cozy Mysteries by Theme click on this link.♦