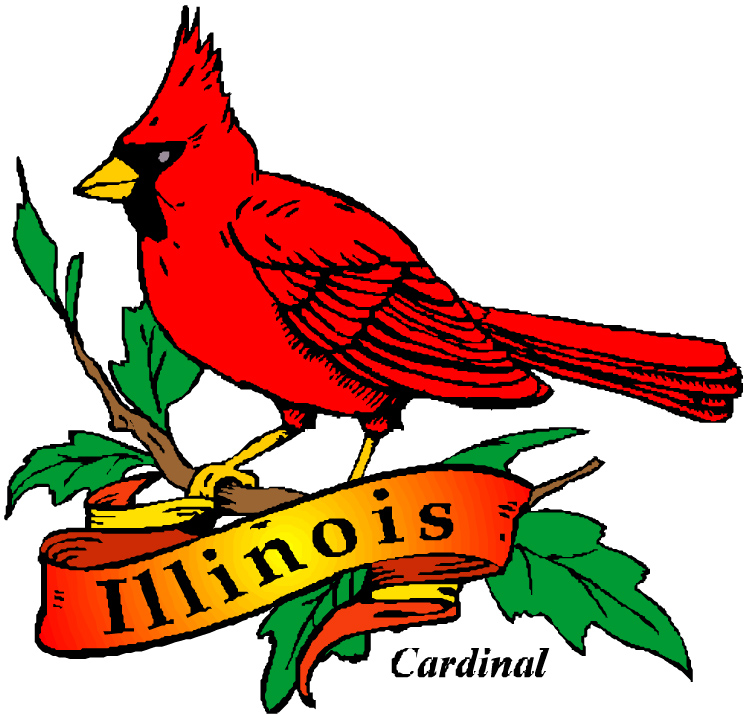 Here are some fun Illinois Facts:
The largest city is Chicago and the capital is Springfield.
State motto is "State Sovereignty, National Union State."
State bird is the Cardinal.
State flower is the Purple Violet Viola.
State nickname is "Prairie State."
State Animal is the white-tailed deer.
In 1885, the first skyscraper in the world was built in Chicago.
Mystery book authors found on the Cozy Mystery Site who feature Illinois locations in their books:
Julia Buckley… writes the Undercover Dish Mystery Series… Lilah Drake, owner of a catering company
Joelle Charbonneau: Rebecca Robbins Mystery Series… Rebecca owns a roller skating rink she tries to get rid of >>> while solving mysteries…
Jill Churchill: Jane Jeffry Mystery Series… Jane is a housewife/sleuth…
Lonnie Cruse: Metropolis Mystery Series… features Sheriff Joe Dalton… AND '57 Chevy Mystery Series… features the owners of Sadie, a '57 Chevy…
Barbara D'Amato: Cat Marsala Mystery Series… Cat is a journalist/sleuth AND Suze Figueroa Mystery Series… Suze is a police officer…
Sharon Fiffer: Jane Wheel Mystery Series… Jane is an antiquer…
Chris Forman: Maria Hart Mystery Series… Maria is an insurance investigator…
Julie Hyzy: Alex St. James Mystery Series… Alex is a reporter/sleuth…
Kylie Logan (aka Miranda Bliss & Casey Daniels): Botton Box Mystery Series…Josie is an antique/vintage button expert who owns a button shop in Chicago…
Alex Matthews: Cassidy McCabe Mystery Series… Cassidy is a psychotherapist/sleuth…
Ralph M. McInerny (aka Monica Quill): Father Dowling Mystery Series… Father Dowling is a priest/sleuth…
Catherine O'Connell: High Society Mystery Series… Pauline Cook is a widowed socialite living in Chicago.
Sara Paretsky: V. I. Warshawski Mystery Series… V. I. is an ex-attorney, current private investigator…
Mary Monica Pulver (aka Monica Ferris & 1/2 of first 6 Margaret Frazer Sister Frevisse mysteries): Peter Brichter Mystery Series… Peter is a police detective…
Monica Quill (aka Ralph M. McInerny): Sister Mary Teresa Mystery Series… Sister Mary Teresa is a nun/sleuth…
Denise Swanson: Scumble River Mystery Series… Skye Denison is a school psychologist…
Mary V. Welk: Caroline Rhodes Mystery Series… Caroline is a nurse/sleuth…
Please feel free to comment if you see an author from the Cozy Mystery Site who belongs on this list, or if you have any corrections.
♦To access more Cozy Mysteries by Theme click on this link.♦