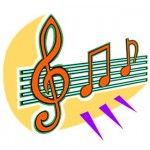 Ksenija just asked me if I had a Music/Musician mystery book theme on the site, and I responded that I don't. Actually, I started putting all of the mystery authors I could think of with Music/Musicians, and came up with this list, which I wrote as a comment, but just decided to post as a theme.
Amanda Carmack: Elizabethan Mystery Series, starring Kate Haywood (musician in Elizabethan England)
Joelle Charbonneau: Glee Club Mystery Series (high school choir coach)
Alisa Craig (aka Charlotte MacLeod): Inspector Madoc Rhys Mystery Series (Trouble in the Brasses)
Sarah Fox: Music Lover's Mystery Series
Sara Hoskinson Frommer: Joan Spencer Mystery Series (orchestra manager)
Kaye George (aka Janet Cantrell): Cressa Carraway Mystery Series (musician conductor)
Cynthia Harrod-Eagles: Bill Slider Mystery Series (young violin player girlfriend)
Morag Joss: Sara Selkirk Mystery Series – Sara is a world renown cellist.
Beverle Graves Myers: Baroque Mystery Series (18th Century Castrati)
Mark Scheweizer: Liturgical Mystery Series (choir director and organist at his Episcopal church)
I don't know how I missed these authors, but here are some more authors who have been recommended by some of you:
K. K. Beck: Jane da Silva Mystery Series (lounge singer)
Meg Cabot: Heather Wells Mystery Series (ex teen pop star)
Church Choir Mystery Series: (church choir)
Carole Nelson Douglas: Irene Adler Mystery Series (French opera singer)
Sarah Fox: Music Lover's Mystery Series (Dead Ringer, book #1) (violinist)
Kinky Friedman: Kinky Friedman Mystery Series (country western singer)
Andrew M. Greeley: Nuala Anne McGrail Mystery Series (singer)
Kerry Greenwood: Phryne Fisher Mystery Series (Ruddy Gore)
Kate Grilley: Kelly Ryan Mystery Series (radio station manager)
Lucille Kallen: C.B. Greenfield Mystery Series (musicians)
Barbara Paul: Opera Mystery Series (tenor)
Mary Saums: Willie Taft Mystery Series former (singer )
Dorothy L. Sayers: Lord Peter Wimsey Mystery Series (pianist)
And, here are some authors who aren't on the Cozy Mystery site:
Deborah Grabien: J P Kinkaid Mystery Series (Rock & Roll Never Forgets)
Phyliss Knight: 'Lil Richie' Series (Switching the Odds  and Shattered Rhythms)
Val McDermid: Kate Brannigan Mystery Series (Dead Beat)
Karen Sturges: Music Lover's Mystery Series (Death of a Baritone and Death of a Pooh-Bah)
Please remember that I have only included the authors who are currently on the Cozy Mystery Site. Feel free to post a comment if you know of any other mystery authors from the site who write Music/Musician themed mystery books. Thanks!
♦ To access more Cozy Mysteries by Theme click on this link ♦