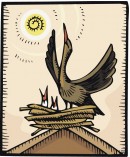 I just posted the Mysteries of Sparrow Island Mystery Series on the Cozy Mystery site. I know that it took me way longer than it should have, but I finally finished it. I had quite a few requests for the complete list of the books in the series, and am sorry that it took me so long to get it done.
Better Late than Never!
The Mysteries of Sparrow Island follow Abigail Stanton (an ornithologist) who moves to Sparrow Island off of the state of Washington's coast. Abby relocates to the island in order to help her sister (Mary) to adjust to her new life after a debilitating car accident which leaves Mary in a wheelchair. (Finnegan, Mary's service dog, also helps.
This is a Christian theme mystery series which was offered by Guideposts as a membership club.