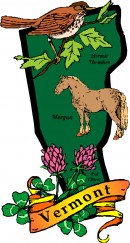 Here are some fun Vermont facts:
The capital is Montpelier.
Largest city in Vermont is Burlington.
State motto is "Freedom and Unity."
State nickname is "Green Mountain State."
State flower is the Red Clover.
State bird is the Hermit Thrush.
State animal is the Morgan horse.
Mystery authors who are found on the Cozy Mystery Site who feature Vermont locations in their books:
Connie Archer: Soup Lover's Mystery Series. It is set in a little Vermont skiing town.
Barbara Bretton: Chloe Hobb's Paranormal Mystery Series: Chloe owns the Sticks & Strings Knitting Shop and happens to be half human, half sorceress…
B. Comfort (aka Barbara Comfort): Tish McWhinny Mystery Series: Tish is a septuagenarian artist/sleuth…
Sarah Fox: writes the Literary Pub Mystery Series – which takes place in Vermont and features a pub owner who caters to book groups and other literary lovers.
Melissa Glazer (aka Tim Myers, Elizabeth Bright, & Chris Cavender): Clay & Crime Cozy Mystery Series: Carolyn Emerson owns the Fire at Will Pottery Shop…
Archer Mayor: Joe Gunther Mystery Series… This is a police procedural series…
Amy Patricia Meade:  Pret' Near Perfect Mystery Series… Stella Thornton Buckley lives in a village in Vermont with her husband…
Allison Cesario Paton: Mrs. Bundle Mystery Series… Mrs. Bundle is a senior citizen sleuth …
Fran Stewart: ScotShop Mystery Series… Peggy Winn owns a shop which specializes in Scottish merchandise. Peggy has the help of a 14th century Scottish specter.
Sarah Stewart Taylor: Sweeney St. George Mystery Series:  Sweeney is a professor/historian/sleuth…
Nancy Means Wright: Ruth Willmarth Mystery Series: Ruth is a single mother/dairy farmer/sleuth…
Please feel free to comment if you see an author from the Cozy Mystery Site who belongs on this list, or if you have any corrections.
♦To access more Cozy Mysteries by Theme click on this link.♦