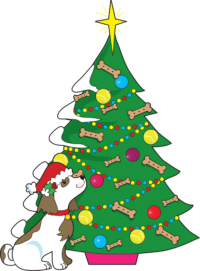 I just finished reading both The Neon Ornaments, a novella in Camille Minichino's Periodic Table Mystery Series and The Deadliest Christmas Pageant Ever, a novella in Teresa Trent's Pecan Bayou Mystery Series. Both of these Cozy Mystery authors are authors I really enjoy reading, and they are both on my favorite authors list.
Let's see, what else do I have to tell you about … Oh, I started putting our Christmas decorations up after Thanksgiving and am finally finished. Having our puppy, Cocoa, under foot made it a little more taxing than it would have ordinarily been. It's been so many years since our Sprite was a puppy, so I had sort of forgotten how much more time it takes while being careful not to drop anything on the floor.
I sure enjoyed seeing all the ornaments as I unwrapped them. In the past I have mentioned that the only ornaments I decorate our tree with are those that our son and daughter made while growing up as well as ornaments made out of their tiny toys. I was transported back to when our children's little, itty-bitty hands played with these beloved toy characters (I hang them on the tree with festive Christmas ribbons). Little, itty-bitty Transformers, My Little Ponies, Care Bears, Bert, Ernie, Cookie Monster, and Oscar, etc. Boy, do they take me back!
I certainly hope all of you are enjoying this holiday season. Whether it's Christmas, pre-Hanukkah, pre-Kwanzaa, or simply the winter season!
P.S. If you're interested in seeing a terrific Christmas mystery book list, click on this link.