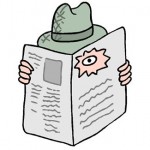 Linda wrote a couple of months ago asking help is finding this author and/or mystery series:
"…  I too have an author that I can't remember and I liked the stories so much that I thought I would remember easily, but guess what? I can't remember. The main sleuth was hit in the head some how and woke up thinking he was a "gumshoe". He kept talking like he was a character in a Mickey Spillane murder mystery. Anyone got any ideas. This series would have come out, I would say, in the last 3 to 5 years. The guy was funny. He couldn't remember any other parts of his life. He didn't even know his own mother."
Again, if you think you might know who the author of this series is, or the name of the mystery series, please post a comment. Thanks!