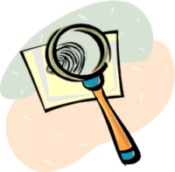 Well, I've been holding off on this longer than I should… quite a few questions by Cozy Mystery readers have started to pile up. Here's hoping that some of our keen-minded readers can help these people find their forgotten favorites!
From Lenda…
I have been trying to remember which mystery writer includes recipes that also list the gluten free version. All I can remember is that the writer is a woman.
EDIT: Numerous readers have suggested Nancy J. Parra's Baker's Treat Mystery Series. Others have suggested Daryl Wood Gerber's Cookbook Nook Mystery Series. Catherine suggested Libby Klein's Poppy McAlliester Mystery Series, which features a gluten-free baker. Debby suggested Lorna Barrett's Booktown Mystery Series, which does include recipes.
From Carole…
I am trying to remember the name of the author who wrote a few mystery books about an older woman who ran a salvage business in the Sacramento area. I think the character's name was Henry O. or something like that.
EDIT: Actually, Carole found the answer to her own question – the author is Mary Bowen Hall. Several others have suggested the Henrie O. Series by Carolyn Hart, but at least in this case that isn't the answer! (Still might be worth looking at though!)
From Robert…
Trying to find name of author who wrote about a Florida keys murder mystery. She was a district attorney, her boyfriend was a cop.
EDIT: Not many suggestions on this one yet… Amy suggested it could be Barbara Parker's Suspicion Mystery Series, which stars Miami lawyers.
From Glen…
[I'm looking for ] some books about a couple of elderly men, a bit scatterbrained maybe? Or maybe just a bit naive. They do solve mysteries, and the books are very funny. They're older books and out of print now. In fact, out of print for quite awhile…
EDIT:  Not too many possibilities for this one yet either. Rickee suggested this could be the Peculiar Crimes Unit by Christopher Fowler. Lydia suggested it might be from Phoebe Atwood Taylor, either the Asey Mayo Mystery Series or the Leonidas Witherall Mystery Series.
From Neater…
I'm looking for a cozy mystery series about a Golden retriever female dog trainer and kennel owner In New York. She lives on a compound with her family. She travels to dog shows around the country. Her whole family is involved with the dogs…
EDIT: Several possible answers, but not a strong consensus on this one yet… Marsha suggested Laurien Berenson's Melanie Travis Mystery Series, though there are some differences (poodles and Connecticut instead of golden retrievers and New York). Amy suggested Carol Lea Benjamin's Rachel Alexander Mystery Series, which does feature a dog trainer in New York, but not necessarily a focus on golden retrievers either. Rhonda suggested the Dog Lover Mystery Series, by Susan Conant.
From Este…
… [it] took place onboard a harbored ship, I believe during a will-reading or murder mystery dinner. The book was part of an existing series that normally is not onboard ships. I believe the MC was a caterer or chef for the party…
EDIT: S'more Murders, an entry in Maya Corrigan's Five-Ingredient Mystery Series, might be the answer to this one – a suggestion by the author, actually, as well as several readers. Rickee suggested the Diane Mott Davidson Goldy Bear Mystery Series, which stars a caterer. And Amy suggested the author could be Faith Martin.
Thanks in advance! I will add anything that seems like it is probably the answer to the post!