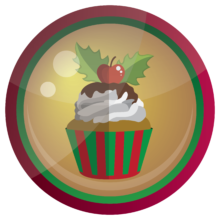 Merry Christmas Eve! I know with all of the Covid 19 precautions, most of us won't be celebrating Christmas the way we have been used to in the past. It's the first time since our daughter was born that we won't have our family together. I just keep telling myself that next year we'll all be back to normal. 
On a very trivial note, this is the first year in a while that I haven't had a Panera coffee cake here for Christmas morning. (I have mentioned how much I dislike baking things from scratch.) I think it's nice to have something to eat with your morning coffee – and the Panera coffee cake was the easiest way to go. However, with all of the hassles of not wanting to go into the restaurant to pick it up I decided to bake something from scratch… if "scratch" includes a boxed mix. 
So this morning I baked a Krusteaz Cinnamon Swirl Crumb Cake, and I'm here to tell you that it is delicious! For those of you who bake a lot, you would probably say "Hmmmmmm, not on my watch!" to this, but let me say that as a non-baker, it's delicious! And it seems like a perfect solution for people who want a fresh coffee cake but who are like me: non-bakers.
I hope this holiday season has been healthy for all of you. Just remember that next year we should be back to normal. As difficult as this year has been for all of us, the holiday season is a joyous time of year. Here's wishing you ALL an early Healthy, Happy, and Merry Christmas!