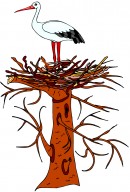 I am currently looking out my window, watching a Black-chinned Hummingbird at one of my feeders. These little guys are so cute to view, I only wish we had more of them around here.
Our backyard is again full of little, tiny fledglings. Some of them seem to be so clueless, that I wish I could go outside and teach them how to use the two bird feeders. I know that nature has a way of teaching them, but it is a little frustrating to see them try to feed from the plastic sides of the feeders.
This brings me to the real reason for this entry. I just want to make sure that all of you have a chance to watch some truly amazing birds grow up, before leaving their nests.
A few days ago, Denise posted a comment telling us about this site:
"… I know alot of us like birds and so I thought I would share this. http://www.allaboutbirds.org has a camera with a live feed on a pair of red tail hawks and their babies at Cornell . My first graders have been fascinated to see the parents nest sitting, seeing the little hatchlings, feeding time (dad brought a small mouse one day) etc.. Pretty cool."
Thank you, AND you're right, Denise, "Pretty cool."
As I usually do, I have gone overboard watching all of these little nestlings. I am not only watching the Cornell Lab of Ornithology's Red-tailed Hawk nest, but I am also watching their Great Blue Heron Nest, as well as their Eastern Bluebird Nest.
All four of these live cams are truly incredible, and if you want to spend some time with nature, in the comfort of your air-conditioned home, then you might want to give these wonderful sites a try.