When I started getting the information together to make up the February 2012 Mystery Book New Releases list, I was VERY happy to see that Claire Malloy is "coming back" after a four year hiatus. Yahoo!
I have "been with" Claire since… some time in the 1980s. That's a doggone long time! I started thinking about just how much time I've been a follower of Joan Hess… Good grief! Almost thirty years!!!
I started with Joan Hess when she was known as Joan Hadley. I read both of her Theo Bloomer mystery books. I then jumped over to her Maggody Mystery Series. I enjoyed Arly, Ruby Bee, Delia, Kevin Buchanan, Jim-Bob Buchanan and his wife (who happens to be a Buchanan-Buchanan!) so much that I started recommending them to my Cozy Mystery friends.
I "felt at home" in the small Arkansas town, and loved its citizens. (I don't know what that says about me!) Arly seemed to be the only voice of reason in the entire town of Maggody. As the sheriff, Arly had to contend with moon shine, an interfering mother, a mayor who was shady (at best!) a mayor's wife who thought of herself as blue-blood royalty, and a slew of other rather UNconventional characters.
Let me take a moment to remind some of you of something I have found to be true for me most of the time. I have talked before about how I usually like only one series by an author. I usually find that I'll like an author's one series so much that their second or third (even fourth and fifth series!) will  usually seem lacking to me… weak. So, it took me a while to finally try Joan Hess' Claire Malloy Mystery Series. I didn't think there was any way I could enjoy Claire as much as I enjoyed reading about Arly's adventures in Maggody. Boy, was I wrong! Not only did I like the Claire Malloy Mystery Series as much as the Maggody Mystery Series, I actually grew to like it even more!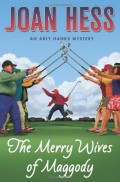 So, while I was glad in 2010 when the next of Joan Hess' Maggody mystery books was published (The Merry Wives of Maggody) after four long years  – I have been made even happier becoming aware of the fact that Joan Hess is finally publishing the  new Claire Malloy mystery book next month – Deader Homes & Gardens – after a long four year absence.
So to all of you I say Yahoo! Those of us who follow both of Joan Hess' Cozy Mystery series have some really good reading ahead of us, and… if anyone knows Joan Hess… please pass on my sentiments: I love your mystery books, but I sure do wish you would write 'em faster!