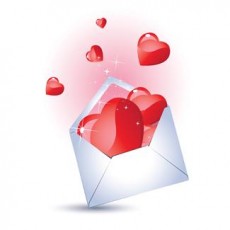 First of all, let me tell you ALL how much I have enjoyed reading all of your comments to the last entry posted! Donna, you certainly had a great idea! (When Is Too Much Romance Not a Good Thing?) Usually, I try to answer all of your comments (other than the monthly recommendations entry), but this particular entry seemed to just take off. So I'm going to address the general impressions I got from your comments:
I just re-read all of your comments, and it looks like the majority of us don't mind a little romance, but we don't want it to become a major component in our Cozy Mysteries. We don't mind it, but it's not a definite requirement. Most of us agree there is a definite difference between a Cozy Mystery and a Romance novel with a little mystery in it. We are reading Cozy Mysteries because they are, indeed, mysteries!
Several of the comments reflect that one of the reasons we like the Cozy Mystery genre is because of the fleshing-out of the characters and their relationships with other characters, whether they are romantic interests, or not. We want our characters to interact with each other; to be like the type of people we know in "real life".  (After all, not all of the people we know "in real life" have significant others.)
I love that some of you were able to cite some really iconic sleuths who have loving, committed relationships. Those of us who are Ngaio Marsh fans can remember how smitten Roderick Alleyn was with Agatha Troy; however none of us was privy to their "romantic" life. It wasn't a subject which took up a lot of the books. Same goes for Dorothy L. Sayers' Peter Wimsey and Harriet Vane. We see the same thing with Agatha Christie's Tommy and Tuppence. The authors focused on the mysteries, not the couples' courtships and/or marriages. The authors' abilities to write good mystery novels with engaging mysteries is what keeps us coming back for more.
P.S. As an aside to love triangles, which were brought up a few times:  It looks like a lot of us agree that you should be able to decide on one suitor. It's realistic that you would have a few doubts, and that it might take you a little time to find the person who is right for you, though here's a thought >>> If you can't decide between two potential love interests, then neither of them is probably right for you! (Maybe I'm just jealous, though. I don't remember any time in my life where I had two men who desperately wanted to be with me, and who didn't mind that I was dating the other!)