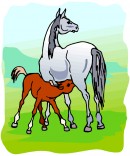 Here is a list of mystery authors on the Cozy Mystery site who include the equestrian theme into their mysteries:
Carolyn Banks writes the She Rides, He Doesn't Mystery series. The series features Robin Vaughn, an equestrienne.
Most of you know about Rita Mae Brown's Master of the Fox Hunt series.
Laura Crum writes the Gail McCarthy Mystery Series that features an equine veterinarian.
Did you also know that Monica Ferris writes a series as Mary Monica Pulver (the Peter Brichter Series) that has a horse breeder as one of its main characters?
Dick Francis: Not Cozy…  Francis was a jockey in Great Britain before suffering an injury that forced him to retire. He has a very successful career writing mysteries that take place in the world of horse racing.
Felix Francis: continued his father's (Dick Francis) series
Leigh Hearon: Carson Stables Mystery Series – Annie Carson is a horse trainer on the Olympic Peninsula, Washington.
Gabriella Herkert writes the Animal Instinct Mystery Series, and her third book in that series features horses..
Sasscer Hill pens the Nikki Latrelle Racing Mystery Series.
Jody Jaffe writes a series about a journalist who specializes in equestrian articles:  #1. Horse of a Different Killer  #2. Chestnut Mare, Beware    #3. In Colt Blood
D.M. O'Byrne: Tonya Callahan Mystery Series
Michele Scott writes the Michaela Bancroft Horse  Lover's Mystery Series as well as the Vivienne Taylor Horse Lover's Mystery Series.
♦To access more Cozy Mysteries by Theme click on this link.♦