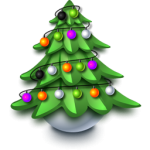 A few weeks ago, Alfred posted a great comment that I thought would be ideal to post during the week before Christmas. (Thanks, Alfred!) Here is Alfred's comment:
"Danna – Just a quick note. How about since it is coming up Christmas time – Do the readers have any family traditions or special foods they like to get or make for Christmas time. Thought it might be a good column for future."
Alfred, I totally agree>>> This is a great entry idea!
We have a family tradition that has sort of come out of "necessity." Since our Riverwalk is so beautifully decorated during the holidays, we make our way down there every year. But, because the traffic is so absolutely atrocious during the holiday season, we don't go down with the rest of the crowds. We wait until Christmas Eve to go take in the beautiful lights.
As for food, it is the only time of year when I actually bake cookies from scratch. I don't know if that qualifies as a special food, though. Oh, and also, since all four of us have been able to spend the holiday seasons together, I make a meal that all of us love during the week either before or after Christmas: Mary Bass's Tacoritos. Love them! And one more thing, I am going to try to make some felt ornaments (copied from some that my grandmother made years and years ago) so that I can sort of share the tradition of hanging her hand-made ornaments with my family. I know my sister would especially love them.
Do any of you have special family traditions that you keep alive during the holiday season? How about special foods?