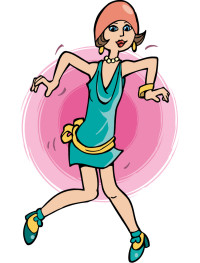 Recently I went back and revisited Carola Dunn's Daisy Dalrymple Mystery Series, and it got me thinking about the historical/period themed mysteries that are home to many Cozy Mysteries. I've already got a series of posts on these as a whole >>> but I've also been thinking lately how different the setting can make a series seem and how it might be nice to be able to help find similar novels based in this time period.
To help make that easier I've decided to begin making more focused themes for the site so people can find similar novels by setting more easily. This time we'll be starting with the 1920s!
A period often called the "Roaring Twenties" in the United States, the 1920s are often characterized by wild times, prohibition, and flappers, but it was also a time for social change>>> women's liberation made significant progress in particular, with women getting the right to vote in both the United States and Great Britain during the 1920s.
I've included some examples below – but if you've got any other examples of Cozy Mystery authors who have a series set in the 1920s, please be sure to send in a comment so I can include them in the list!
Cozy Mysteries set in the 1920s:
Suzanne Arruda: Jade del Cameron Mystery Series – Jade is an adventurer in Africa.
S.H. Baker: the Dassas Cormier Mystery Series takes place in Louisiana during the 1920s
George Baxt: Celebrity Sleuths Mystery Series – Not all of the books in this series take place during the 1920s, however several of them do.
K.K. Beck: The Iris Cooper & Jack Clancy Mystery Series is set during the late 1920s, so of course, it features a flapper.
Simon Brett: Blotto and Twinks Mystery Series – The sleuths in this series are a British brother and sister team.
Frances Brody: Kate Shackleton Mystery Series – Kate is a WWI widow in a British small milling village during the 1920s.
Maia Chance: Discreet Retrieval Agency Mystery Series – Lola Woodby is a 1920s society matron and widow.
Jill Churchill: Grace and Favor Mystery Series – Brother/sister sleuthing duo Lily and Robert Brewster start sleuthing after they lose all of their money in upstate New York.
Ellen Collier: Jazz Age Mystery Series – Jazz Cross is a society reporter.
Jeanne M. Dams: The Hilda Johansson Mystery Series takes place in the USA, during the early 1920s. Hilda is a Swedish immigrant housemaid in South Bend, Indiana.
Alice Duncan: Daisy Gumm Majesty Mystery Series – Daisy is a séance and tarot psychic in California.
Alice Duncan: Mercy Alcutt Mystery Series – Mercy is the owner of a rooming house in Hollywood.
Carola Dunn: The Daisy Dalrymple Mystery Series is set in 1920s England. Daisy is a journalist who does more than report the stories… she solves them!
R. Austin Freeman: Dr. Thorndyke Mysteries – Freeman is the creator of inverted detective stories in which you find out the crime and possibly the culprit at the beginning, and then read about the how the detective solved the crime.
Dolores Gordon-Smith: Jack Haldean Mystery Series – Jack was a Royal Flying Corps pilot and is currently a young crime writer in England.
Kerry Greenwood: The Phryne Fisher Mystery Series takes place in the 1920s in Australia. Phryne Fisher is a very "modern woman" who enjoys solving a mystery (or two!)
Melanie Jackson: Jane Blackthorn Mystery Series – Jane is a young widow/sleuth.
Laurie R. King: Harris Stuyvesant Mystery Series
Catriona McPherson: The Dandy Gilver Mystery Series has, as its sleuth, Dandy (Dandelion Dahlia Leston), a Scottish aristocrat in the 1920.
Mary Miley writes the Roaring Twenties Mystery Series which features an ex-Vaudeville/silent films actress in Hollywood during the 1920s.
J. J. Murphy: The Algonquin Round Table Mystery Series takes place in New York during the 1920s, and features author Dorothy Parker as its sleuth.
John Reisinger – Max Hurlock Mystery Series
Agata Stanford: Dorothy Parker Mystery Series – The sleuth in this series is non other than the famous real life author, Dorothy Parker.
Charles Todd: Ian Rutledge Mystery Series – Rutledge is a WW I veteran and Scotland Yard detective in England.
Jacqueline Winspear: Maisie Dobbs Mystery Series – Maisy is a psychologist/sleuth in London.
If you're interested in seeing lots and lots of other Cozy Mystery themes (and by "lots" I truly mean lots!), be sure to visit the Cozy Mysteries by Themes page on my site.