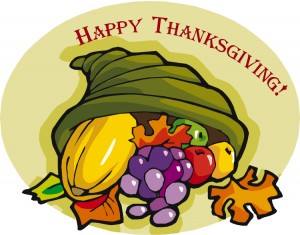 It's Thanksgiving here in the USA, so Happy Thanksgiving! 
I wrote this quick note yesterday (Thanksgiving eve) because I knew exactly where I would be at this time… in the kitchen! Between mashing the potatoes, dressing the stuffing, and getting our favorite cranberry sauce in a bowl (nothing but the very best taste for us, thanks to Ocean Spray Jellied Cranberry Sauce — and I really mean that!) I will be busy getting our yearly lunch/dinner on the table. The fact that it will take me all day to prepare, and half an hour to eat (at the most!), bothers me not! 
We all have so much to be thankful for!