Happy Spring!
[I'll talk about my current Cozy Mystery by one of my favorite Cozy Mystery authors , Rita Lakin, at the end of this entry, so it's not like it's totally devoid of Cozy Mystery information!]
So, once again: Happy Spring!
I know this isn't the way a lot of you want to begin spring, but hopefully it will get a lot better for you ALL soon. Seeing that those of you in the northeast are in the midst of snow (again!) takes me back to when I went to college in Iowa. Brrr!
My computer monitor conked out yesterday, which, as you would guess, was a hassle. I always get my husband's or son's hand-me-down computer components, so I now have my husband's mammoth-size monitor. (He ordered a new one for himself.) I actually have had to move my new monitor over toward the wall so I can still keep an eye on my birds outside. We now have a Cardinal pair who are making our Goldfinch feeder their choice of feeding places. I'm really enjoying them >>> probably a whole lot more than the tiny Goldfinches are enjoying their company!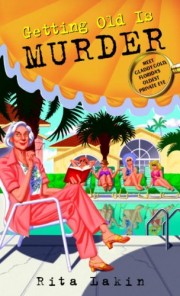 I just started a book by one of my very favorite Cozy Mystery authors: Rita Lakin. There hasn't been a Gladdy Gold mystery since 2011, so I am really spacing out the books. I don't want the series to end! This is a Senior Sleuth series, but in reality, it's a senior sleuthS series! Gladdy lives in a Florida retirement community, and she is helped by a few other ladies who live there. Don't be put off thinking these ladies take things easy! These ladies are active! These book titles should give you an idea of the series: Getting Old Is Murder, Getting Old Is Criminal, Getting Old Is to Die For, and Getting Old Can Kill You. How can you go wrong with titles like these?!?
Well, I'm going to post this entry now, so my husband can use my computer. (His monitor won't arrive until tomorrow.)
Happy Spring to ALL of you!