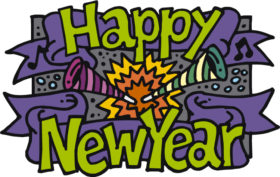 First off, Happy New Year! I hope 2017 is a terrific, wondrous year for ALL of you.
Do any of you have resolutions for 2017? I guess I should actually ask, did you make 2017 New Year's resolutions – and if so, have you already broken them?
I know the above sounds pretty negative, so let me instead ask if you make New Year's resolutions and, if you do make them, are you able to keep them?
Every year I resolve to stick to a healthy diet – but, depending on how many Christmas cookies we have in our house, I rarely make it through the first week in January before I veer off my healthy eating resolution. (Or sometimes, January 2 has me feeling guilty about breaking my resolution!)
What's one to do? I guess in my case, I should simply make fewer Christmas goodies so there are less of them to tempt me during the beginning of the next year.
How do you stand on New Year's resolutions? Please leave a comment – perhaps you'll provide some of us with the necessary incentive to keep us on track! Or, perhaps you'll make us feel better about not being so good about keeping them!