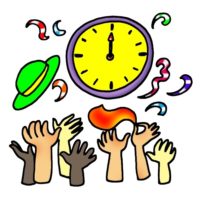 Well, it's just a little late, but I wanted to wish you all a very happy New Year!
We're enjoying the last few days of my daughter visiting, so I've still been a bit busy today!
Does anyone have any New Year's resolutions they want to share? I'm afraid that this year I'm not feeling particularly motivated – though I do hope to read at least a few more Cozies per month than I managed last year!