I had a really difficult time deciding which of my Halloween graphics I should use for today's entry. Should I go with a generic Halloween picture?
But, now that Paranormal Mystery books are all the rage, should I go with something a little more "paranormal-y"?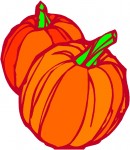 Or, how about some little pumpkins… not yet carved up?
I simply could not decide…

Here's hoping that all of you are enjoying a good, SCAREY mystery book!
PS>>>> As you can see, I cannot get enough of my graphics!