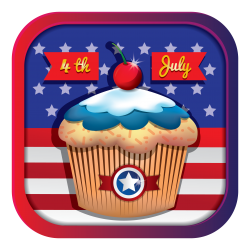 Happy Fourth of July to those of you in the USA. I hope you all stay safe.
My husband and I had planned on being in Northwood, Iowa today >>> but have put off our trip up there until later this year. I was all excited about visiting the place I consider to be "my hometown", although it really isn't. My father was in the Air Force, so we lived in several states, Spain, and Chile. Between every new assignment we would go visit my grandmother in Northwood, my father's hometown. My grandmother and I developed an extremely close bond when my younger brother was born and I went to live with my grandparents for a while. As the story goes, when my grandparents dropped me off in Arlington, Virginia (after my stay with them) I was waiting in the car, ready (and wanting!) to "go home" with them.
My grandmother shared her enjoyment of reading with me. I credit her with my love for books. Of the four children in my family, I was the only one who developed this passion for reading, and I am truly grateful for her inspiration.
My husband and I were going to head to the upper Michigan area via Northwood to get some respite from our humid heat down here. Also, I have been wanting to visit Northwood for a while. (My last visit was fifteen years ago.) However, when I was taking a look at another town's website in northern Iowa, I saw that they would be spraying for mosquitoes, which put the breaks on our trip. (I'm particularly attractive >>> to mosquitoes, that is! I can be outdoors with my husband for five minutes and he's not affected, but when we go inside, I find I have three or four bites already >>> and that's in San Antonio where mosquitoes are usually not much of a problem.) So we're just postponing our trip until the mosquitoes are under control up there.
Well, I certainly had not planned on writing about our change of plans for the Fourth >>> I had only planned on writing to wish you all a Happy & Safe Fourth of July!