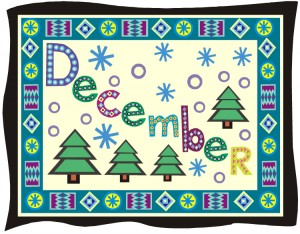 I just cannot believe that the year is almost over. All sorts of January 1, 2011 resolutions have turned into nothing more than just good intentions. Let's see… I was going to lose twenty to thirty pounds by 2012, oh-oh, I had better get started!
I am sitting here at my computer listening to George Winston's superb piano playing, I have my Fresh Frasier Fir scented wax melts brewing on my coffee cup warmer, and I am looking out of my window at a gloriously gloomy-looking day. It looks like it should be a crisp  and cold December day outside, rather than the high-in-the 70* type of day that it is expected to be.
I am reading Marion Babson's The Twelve Deaths of Christmas, and am enjoying it a lot so far. When I first started this mystery, I kept thinking I had read it before. It was published in 1979, so it has been around for a while. But as I progressed, I found that it wasn't quite as familiar as it would have been, had I read it before. Then it dawned on me: Because you get to "hear" from the actual murderer (some of the chapters are first person narratives), I was thinking of Simon Brett's A Nice Class of Corpse, which is another mystery book I really enjoyed.
I have so many things I should be doing right now, but here I sit, procrastinating AGAIN. I have a few things I absolutely have to get done today, of which, making a January 1, 2012 Resolution List is not!
I'm just going to blame it on the sounds of George Winston's piano…