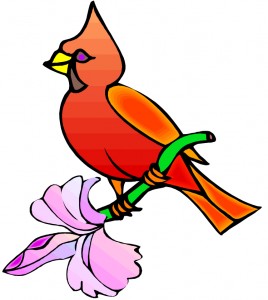 I know that I have written about the drought we are experiencing this summer. Our water district has put us all on very stringent water restrictions. With our drought, I have been extra careful to make sure the birdbaths are always clean and full. And, I finally put out two bird feeders in the yard. I would never have done that while Sprite was with us, but now that she is gone, I find it almost comforting to see the birds congregating in our yard. I have particularly enjoyed watching the birds bring their fledglings to the bird baths… some of the smaller birds' fledglings are absolutely tiny!
Our neighbors have a bird feeder in their yard that is located in the shade all day long. The birds absolutely love it. Our feeders aren't shaded until later on in the day. For the last two/three weeks, our neighbors have let their bird feeder remain empty. (They had people visiting and didn't want the birds to make a mess on their patio.) For those two/three weeks, I had to fill our two feeders every morning. Whenever I walked through the kitchen I was entertained by continuous activity outside… I had to actually "break up a few fights" when grackles tried to attack some of the other birds. (I can't stand those grackles!)
Unfortunately, our neighbors house guests are gone, and so are "my" birds! As soon as our neighbors refilled their empty bird feeder, my feathery companions took off for better pastures! They return to our yard for a quick drink of water, and then they disappear.
I hope our neighbors have house guests again soon!