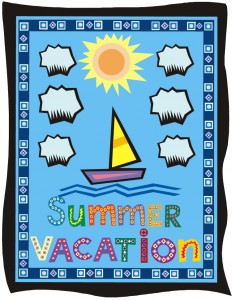 Our daughter came home for a week before heading out to Washington, DC for her summer internship. She will be living in the same housing place as she did during her last summer's internship. I have come to terms with her living so far away, although I wish she were closer. Between Cambridge for the school term and DC for the summers >>> I guess I should resign myself to the fact that she is now an east-coast adult.
My husband and I planned to visit her during her internship, as we did last summer, but the three of us have decided that since she won't be there as long as she was last summer, we will probably wait until the fall and visit her in Massachusetts instead. I have to admit that visiting her in DC last summer sure calmed the "mother in me." Seeing all the police officers patrolling the area set my mind at ease. It seemed like there were police officers on every corner – not at all like what it was like when we lived the area – way back in the 1980s and early 1990s.
Whenever my husband and I are away, our son takes on the responsibility of taking care of Sprite. And, at 16 1/2 years old, she is one finicky puppy. She has definite likes and dislikes, and she lets you know about them! I am almost embarrassed at what Sprite now has us doing just to get her to take her pills each morning and night.
Anyway, it's not officially summer yet (June 21), but we've already had our yearly summer visit from our daughter. It does seem those visits are getting shorter and shorter…