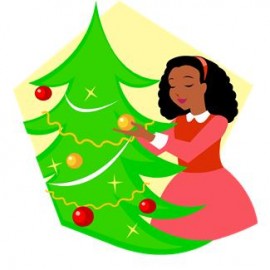 I have been waiting patiently for December to begin. Well, I guess it has been more like IMpatiently! Two months ago MJ wrote a couple of comments that caught my eye. I wanted to showcase her comments during December, since most of us like to do special things around our houses during December. You know, things like decorating a tree, or baking cookies >>> perhaps from a recipe out of one of our Cozy Mystery authors' culinary mysteries!
MJ's comment from October 15:
Autumn is my favorite season, too. I live in an area where we can enjoy fall and all its glorious colors. You should see my house! I have LOTS of fall decorations. But, I believe we had this discussion a year ago…………
MJ's comment from October 16:
I'm obviously veering off-topic AGAIN……….But, I put up my fall decorations right after Labor Day and leave them up until after Thanksgiving, so I can get the maximum enjoyment out of them. I even have 4 different quilts/bedspreads for the bed to 'change' with the seasons! I REALLY like the 'fall' bedroom. I probably put up more fall decor than xmas decor. Fanatic?……..perhaps.
MJ's comment from October 17:
I also change the bathrooms seasonally, putting in different shower curtains and towels for fall, winter, and spring/summer in two bathrooms.

Also wanted to mention (since I am so-o-o-o-o far off topic), there is a WONDERFUL Pumpkin Curry soup recipe at the Nestle website. It's great for the fall season and is easy, easy easy. Even those that don't like pumpkin love this soup. The curry makes it pop (without over powering it)!

Very Best Baking by Nestle: Pumpkin Curry Soup 

Another yummy/tasty new fall item (at least new to me) is Pepperidge Farm's Caramel Apple Bread and also their Pumpkin Spice Bread — both are so-o-o-o good! They even make great french toast.

Well………at least the foods are 'fall' related!!

Most people are probably done reading this particular entry, so these fall food suggestions are probably for naught.
Nope, MJ, your suggestions are not for naught! (And, I think Pumpkin Curry soup sounds great for the winter months as well!)
Here's my question for ALL of you: Do you have some delicious food items like MJ's Pepperidge Farm's breads you would share with us? Or is there a special recipe like MJ's Nestle's Pumpkin Curry soup you wouldn't mind telling us about?