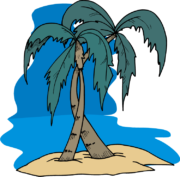 So, I've asked this question before (and other variations on it), but it's been a while, and people's opinions might have changed, new authors have been introduced, and of course we have a large number of different people now than the other times I've asked it before. So, if you were stranded on a desert island with only two Cozy mystery authors works, which two authors would you choose and why?
To clarify the rules, you can get all the books written by an author, including books that they co-wrote and books written under different pen names.
I think I'm still going to go with my previous choices – Agatha Christie and Ngaio Marsh. As before, I've put both authors up because they have strong plots, good mysteries, and three-dimensional characters… and it doesn't hurt that they wrote a lot of novels each, so I won't run out of material too quickly.
So, what two authors would you choose for a deserted island, and why?
UPDATE: I decided to make a list of the suggestions, so here it is! I've decided to include authors mentioned that aren't quite Cozy or aren't even mystery authors as well, as long as they were mentioned as one of the top two… and people who put up to three or four also got their choices up.
Avery Aames (aka Daryl Wood Gerber)
Laura Childs   (aka Gerry Schmitt)
Kate Chopin
Wilkie Collins
Laura DiSilverio   (aka Ella Barrick & Lila Dare)
Monica Ferris  aka Mary Monica Pulver & half of the duo who wrote as Margaret Frazer
Patricia Fry
Hans van Gulik
Joan Hess   aka Joan Hadley
Anne Hillerman
James Joyce
Sofie Kelly  (aka Sofie Ryan & Darlene Ryan for Young Adult)
Kate Kingsbury  (aka Rebecca Kent & Allison Kingsley)
Charlotte MacLeod (aka Alisa Craig)
Jenn McKinlay (aka Josie Belle & Lucy Lawrence)
Miss Read
Gladys Mitchell (aka Malcolm Torrie)
Elizabeth Peters  aka Barbara Michaels & Barbara Mertz
J. D. Robb  (aka Nora Roberts)
William G. Tapply
Phoebe Atwood Taylor   (aka Freeman Dana & Alice Tilton)
Angela Thirkell