I have talked about the TV ritual I go through every fall, in which I tape every new sitcom that is being shown >>> to see if any of them will make my personal favorites list. (I also try any new non-sitcom shows that catch my fancy.) I have written about shows that were on my favorite sitcom list… WERE being the operative word.
I had grown tired of the comedy shows that I used to follow. Actually, last year I dropped all of my sitcoms except for Hot in Cleveland and Happily Divorced. (Unfortunately, Happily Divorced was cancelled, based on people's opinions that are totally 180° different than mine. The whole cast was a treasure, Rita Moreno was absolutely delicious in her characterization of Fran Drescher's mother.)
Getting back to this entry's purpose. (Yes, I do actually have something to tell you all.)
I have complained in the past about all of the crafting shows being taken off the HGTV channel. They were great resources for young parents, looking for crafts their children could enjoy making while improving their fine motor skills – as well as their self concepts. (Apparently there's a bigger viewership which the sponsors prefer paying for in Do-It-Yourself-Bathroom-Make-Overs!)
Again, I lost my purpose… Oh, that's right…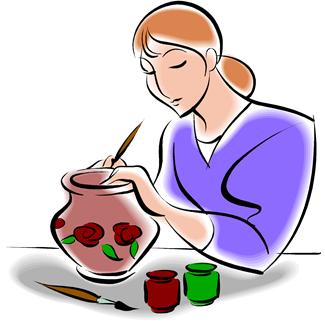 Last year, I tried the Hallmark channel's new Home & Family show when it first premiered. There was something not quite right with it, so I deleted it from my recording queue. Had I stayed with the show I would have found out that they revamped it six weeks after it began. Happily, I put this show on this fall's TV ritual round-up, and I'm happy I did. It is currently on my TV watching list.
The real reason for this post is to tell you that this Hallmark channel morning show has crafts! All two hours are not dedicated to crafting, but there is at least one crafting segment per show. (This is based on just the last two weeks that I have viewed the show.)
So, while there may not be any television shows solely dedicated to crafting (that I'm aware of) at least the Hallmark channel's  Home & Family has some crafting segments. (The show airs on Monday – Friday,  from 9:00 – 11:00 AM central time zone.)
Happy holiday crafting!
***** March 4, 2014 Update:
Now that the holiday season is way behind us, I am not quite as keen about the Home & Family show. I have to say that I find it extremely annoying to watch one of the hosts cut people off almost all of the time. Yesterday, one of the hosts started the show by welcoming the viewers to the Home and Fa— when the other host quickly cut in  with his/her welcome.
This morning I was watching a doctor talk about something quite interesting, only to AGAIN be treated to another "amazing story" from this host of the show. I was much more interested in what the doctor had to say than this host's story, which I have heard many times before from this host. Very annoying!*****