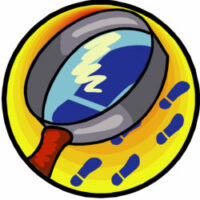 It's been a while, and I've accumulated quite a few reader questions! Here's hoping that we can come up with answers to some of these "Do you know a series where..?" questions.
From Lisa:
Hello! I am looking for a children's mystery book series that has recipes in the back on each book. I read one about 20 years ago and have been making a tuna salad recipe from it ever since, but I have no idea what it was called! I remember the protagonist was a girl but that's it. Does this ring any bells for anyone?
EDIT: Lenora and Ellen both suggested this could be The Boxcar Children Series, which has a Boxcar Children Cookbook that includes a tuna salad sandwich recipe referenced in a book.
From Elise:
I cannot think of the name of the series that has an elderly lady that lives in a house with a thrift shop on the bottom and has a vicar's wife that runs it. The lady goes around picking up donations all over the English country side where she lives and has a niece who is a constable and is always having to help her aunt stay out of trouble because of her mean boss in the constabulary. Her next door neighbor is an artist and has a shop. I want to read more badly. Thank you!
EDIT: The same answer came in from many, many readers… Marie, Dorothy, Amy, Peggy, gf48, Ginger, Cheryl, Ellen, Michael, Teresa… Maryann, Ruth, Cindy, Elaine… Terry, Annie, Michelle… and Judith, Kate, Sandy, and Paula… from the huge response, this is almost certainly the Cornish Mystery Series by Carola Dunn! Thanks for all the responses!
From Karen:
Hoping you can help me remember a series, I believe is set in a mansion turned into a hotel and museum owned by an elderly gentleman with a stepdaughter who visits when she needs money. In the first book the manager is murdered and his young female assistant is promoted to the position, she solves the murders in the series. There is a long-time assistant to the owner who doesn't get along with the new manager until much later in the series after they work together solving the various murders. I can't remember any of the characters' names or the author, just that I enjoyed the series several years ago and would like to find out if there are additional books.
EDIT: Karen (presumably a different Karen), Penny, Jackie, Bev, Judith, and Ann, all suggested this could be Julie Hyzy's Manor House Mystery Series.
From dcarnall:
I'm hoping you or another fellow reader can help me find a series of books I started reading several years ago. I have so little info to offer though, so there lies the problem. I remember it was a cozy series, it was about a female realtor living & working in Florida (???). I seem to remember she was in her 40s, & she was unhappy. Out of the blue she inherited a home on a coast or island from a relative she didn't know at all or very little. She quit her job & started driving. When she arrived at her destination a dead body was found on the property, I believe, in or near a shed in the back yard. The paranormal aspect of the story begins to show up along with a strange supernatural "animal" I can't remember the name of. Well, if anyone likes a mystery this is a mystery I have not been able to solve. Please help me! I would like to read more of this authors books!
EDIT: Purplemamajj suggested this could be by Mary Kay Andrews. I don't know whether this is correct or not, as I haven't read her entire catalog (mostly I have read her work as Kathy Hogan Trocheck) so confirmation one way or another would be nice!
From Sarah:
I wish I could recall the name of an author who did a series about an antique shop in Virginia horse country around Winchester. Any clues?
EDIT: A few possible options – Julie suggested it might be the Sterling Glass Mystery Series, by Emyl Jenkins, while Robin suggested it could be the Antiques & Collectibles Mysteries, by J.B. Stanley (now more popular as Ellery Adams). Both sound possible, though neither is exactly a 100% match.
Thank you in advance to anyone who answers! As I get possible answers, I'll post them with the question…
PS: I have been very bad about replying to these sort of questions lately… so don't be surprised if there is another post similar to this in a week or two… Very sorry to those who have been waiting on answers!