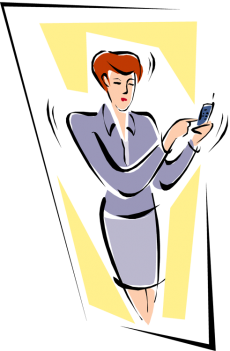 I have an announcement to make. For those of you who use either your mobile phones or tablets to browse the Cozy Mystery site, my "tech guy" (aka my husband) just reformatted my site so that you can view it on a small screen. (There shouldn't be much of a difference for those of you who use your computers to see my site.)
I have mentioned that I am a hold-out for my old flip cell phone, but he finally got a smart phone a few months ago. When he accessed my site on his smart phone, he was shocked to see how difficult it was to read.
Long story, short >>> Since 2006 I have used Microsoft Frontpage for the Cozy Mystery site. However, Frontpage has been obsolete/discontinued for years. Frontpage wasn't able to reformat the site so that you all who use your mobile phones and tablets could see it.
For those of you using your smart phones and tablets, the menu is at the top of your screen on the left side. The menu should be on every page. If you press the menu button (the one with three lines) it will drop the menu down so that it will be easier for you to navigate my Cozy Mystery site. (The mobile menu has been added to the blog too).
Whatever screen you have, big or small, would you please let me know if you notice any glitches? There shouldn't be any, but my husband isn't a "real tech guy", just a dabbler, so there might be some (hopefully minor) glitches. Please let me know, and I'll pass the information along to him.
You know, they say you should never work with family members. You can't fire them, but you (I guess I should say "I"!) can always complain!