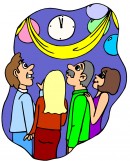 As I have mentioned a few times, I just went through every author on my cozy mystery authors lists, and tried to categorize them by their professions and/or interests. (The reason I say "tried" is that I have been corresponding with a very knowledgeable librarian… I'll call her "Janet"… since that is indeed her name… and I sent her my crafting mystery list yesterday, only to have her come up with several authors I had missed, who I actually have on my site… Shame on me!!!)
I know I have blogged about this many times, but I truly enjoy reading cozy mysteries with holiday settings during those particular seasons. You should be able to find a lot of mystery books that take place during the different holiday times of the year if you search my Christmas, Thanksgiving, Halloween, and Easter pages… But, the following are cozy authors who write (almost exclusively) holiday-themed novels:
Susan Bernhardt writes the Kay Driscoll Mystery Series, which stars a retired nurse who volunteers at the local free clinic.
Kate Borden (aka Kate Grilley) writes the Peggy Jean Turner Mystery Series which takes place in a cozy, little village in New England. Peggy Jean is a widow who is raising her son while performing her duties as mayor of the town. As if that isn't enough, she owns the local hardware store… which she keeps decorated for the holiday seasons.
Allison Brook (aka Marilyn Levinson) writes the Haunted Library Mystery Series. Her first book takes place during Halloween and her second takes place during the Christmas holidays.
Mary Higgins Clark  has written several holiday-themed mysteries, some of which she wrote jointly with her daughter, Carol Higgins Clark.
Isis Crawford (aka Barbara Block): Many of Crawford's Mystery with Recipe Cozies are set during different holidays.
Kathi Daley: Zoe Donovan Mystery Series AND TJ Jensen Paradise Lake Mystery Series
Krista Davis has several holiday themed mysteries in her Domestic Diva Mystery Series.
Vickie Fee writes the Liv and Di in Dixie Mystery Series which features a party planner and her best friend in Dixie, Tennessee
Shelley Freydont writes the Celebration Bay Mystery Series. This series features a sleuth who is an event planner in New York. (Her Lindy Haggerty Mystery Series also had several mysteries set during holidays.)
Jane Haddam (aka Orania Papazoglou) writes the Gregor Demarkian Mystery Series. Demarkian is a retired FBI agent who pairs up with author Bennis Hannaford, and most of the times, these pairings are during some type of holiday season.  Halloween, Thanksgiving, Christmas, Hanukkah, Valentine's Day, New Year's… it's all work and no vacation/holiday time for these two sleuths!
Lee Harris just started writing her second series recently, but she has been writing the Christine Bennett Mystery Series since the early 1990s. Christine is an ex-nun who has a penchant for solving crimes… and again, these usually take place during a holiday of some sort. Harris has made it very easy for us to be able to identify the exact holiday the book is going to take place during… since most of the titles include the actual holiday…. The Christmas Night Murder, The Valentine's Day Murder, The Thanksgiving Day Murder, The Mother's Day Murder… even The Cinco de Mayo Murder!
Melanie Jackson's Chloe Boston Mystery Series  features a meter maid and her dog, Blue. Chloe, try as she might, can't make the required weight to qualify for a police department job, but that doesn't stop her from detecting the culprits.
Leslie Meier writes the Lucy Stone Mystery Series, in which her main character/sleuth is a housewife with several children she has to juggle while solving crimes. The very first novel in the series is now called Mistletoe Murder, but when I read it, it was called Mail Order Murder. Meier just collaborated with Joanne Fluke and Laura Levine on a new Christmas book called Candy Cane Murder, in which Lucy Stone is featured.
Ann Myers writes the Santa Fe Café Mystery Series, which stars the chef at a café in Santa Fe, New Mexico.
Teresa Trent: Pecan Bayou Mystery Series – Betsy Livingston is the "Helpful Hinter" for the Pecan Bayou Gazette, in Texas.
Kathy Hogan Trocheck (aka Mary Kay Andrews): Three of her Callahan Garrity mysteries are set during different holiday seasons: Halloween, Christmas, and St. Patrick's Day.
Debbie Viguié writes the Psalms 23 Mystery Series. This series has two sleuths from different backgrounds: a church secretary and a Rabbi.
Livia J. Washburn writes the Fresh Baked Mystery Series which features Phyllis Newsom, a retired teacher who becomes a baker in Texas. Phyllis manages to solve mysteries – while baking her peach cobblers.
Valerie Wolzien writes two series: the Josie Pigeon and the Susan Henshaw series. The Susan Henshaw Mystery Series is set during different holiday times of the year. Susan Henshaw (like Lucy Stone from Meier's series) is also a housewife who solves crimes between running errands and taking care of her family.
If you have any other cozy mystery authors who you think should be included on this list… please let me know by posting a comment…
***To access more Cozy Mysteries by Theme click on this link.***