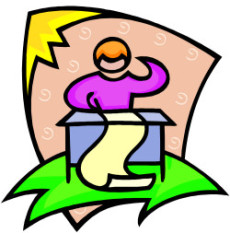 I got this rather interesting note from Hilary in June of this year:
Have (you) talked and asked everyone about their favorite 'must-read-right-away' authors and books? You know, your absolute favorite series whose books you read as soon as they are newly released and you can get you hands on them?

I know I have a few like that, actually one of mine is coming up for a new book release soon. I love Paige Shelton's Country Cooking School Mysteries and the next book is due out in August. As soon as it's released I'll be reading it right away. I'm that way with the Candy Holliday mysteries books as well. I just wish these authors released more than one book a year in these series.
I know that we have discussed a very similar question in the past but it was over a year ago and we might have some new Cozy Mystery readers >>> or established readers might have a new favorite author who they might really want to mention as a new "must read".
To answer your question, Hilary, I do have several Cozy Mystery authors with whom I do this. Actually, I have mentioned one of them several times recently. Camille Minichino/Margaret Grace/Ada Madison/Jean Flowers is a Cozy Mystery author I have been following for several years. Each time she adds a new pseudonym to her list of personas, I find myself adding yet another must-read-right-away Cozy author. (Just what I need!)
Unfortunately, Margaret Grace's last Cozy (Manhattan in Miniature) was released in April, and since it is a Christmas themed Cozy, I made myself wait until this month. Yikes! It wasn't an easy thing to do!
How about you? Who are your top two or three Cozy Mystery authors whose books you absolutely must-read-right-away >>> as soon as they are published? Please post a comment if there are! Thank you.
P.S. You all came up with so many great Cozy Mystery authors who you absolutely must-read-right-away, that I decided to make a list of them. (My love of lists is pretty apparent!) To keep this list manageable, I'll be posting the first five Cozy Mystery authors who you tell us about.  Thanks!
Sue:
Livia J. Washburn
Susan Wittig Albert
Annelise Ryan
Camille Minichino
Ada Madison
Dragons3:
Leslie Meier
Rita Mae Brown
Lea Wait
Margaret Grace
Anne:
M.C. Beaton
Marie:
Donna Leon
Susan Wittig Albert
Louise Penny
Lauren:
C.S. Challinor
Katy:
Sue Grafton
Louise Penny
Jeanne M. Dams
Nancy:
M.C. Beaton
Janice:
Amanda Lee
Laurie Cass
Sofie Kelly
Rob:
Emily Brightwell
M.C. Beaton
Laura Childs
Laura Bradford
Anne Perry
Hanna:
Carolyn Hart
Victoria Thompson
Ellis Peters
Kimberley:
Laura DiSilverio
Amanda Flower
Ellery Adams
Barbara Ross
Eva Gates
Robin in OR:
Jane Haddam
B.B. Haywood
Bailey Cates
Melissa Bourbon
Juliet Blackwell
CJ:
Kerry Greenwood
Ellen:
Victoria Abbott
M.C. Beaton
Alexander McCall Smith
Tarquin Hall
E.J. Copperman
Nicole:
Rita Mae Brown
Ellery Adams
Jenn McKinlay
Sheila in CT:
Laura Bradford
Sally Goldenbaum
Victoria Thompson
Mary Higgins Clark
Lori:
Victoria Abbott
Sheila Connolly
Daryl Wood Gerber
Victoria Hamilton
Eva Gates
Lynn T:
Ellery Adams
Susan Wittig Albert
Molly MacRae
Lea Wait
Mary Ellen Hughes
Stellans:
Julie Hyzy
Susan Wittig Albert
Betty Hechtman
Donna Ball
Cathy Ace
Gina:
Joanne Fluke
Susan*:
Kerry Greenwood
Tibet:
Maria E. Schneider
Ellery Addams
Elly Griffiths
Lea Wait
Cynthia Riggs
MJ:
Jenn McKinlay
Cleo Coyle
Nancy Coco
Jill:
Paige Shelton
Josie Belle
Hannah Reed
Livia J. Washburn
Shelley Freydont
Marja:
Stephanie Barron
Cleo Coyle
Kerry Greenwood
Ann Perry
Donna Leon
Linda MH:
Heather Webber
Julie Moffett
Jenna Bennett
Jana DeLeon
Duffy Brown
Margaret M:
Krista Davis
Kylie Logan
Duffy Brown
Sheila:
Emily Brightwell
M.C. Beaton
Cleo Coyle
Monica Ferris
Nancy Atherton
Mary Joy:
Lorna Barrett
Katherine Hall Page
Leslie Meier
Connie Shelton
Simon Brett
Margaret StashEmpress:
JoAnna Carl
Rhys Bowen
Donna Andrews
Nancy Atherton
Carolyn Hart
Jude:
Ellery Adams
M.C. Beaton
Laura Childs
Sheila Connolly
Jenn McKinlay
Mary G's Wish List:
Valerie Wolzien
Agatha Christie
Glenda W:
Rita Mae Brown
Julie Hyzy
Joanne Fluke
Jenn McKinlay
Angela:
Janet Evanovich
Jenn McKinlay/Josie Belle/Lucy Lawrence
Heather Blake/Heather Webber
Juliet Blackwell
Kate Carlisle
Jonathan:
Cleo Coyle
Julie Hyzy
Rhys Bowen
Krista Davis
Annelise Ryan
Sarah:
Anne Cleeland
Loretta Ross
Sofie Kelly
Rita Mae Brown
Agatha Christie
Tessa:
Sofie Kelly/Sofie Ryan
Bailey Cates
Krista Davis
Sheila Connolly
Alice Duncan
Marilyn:
Maddy Hunter