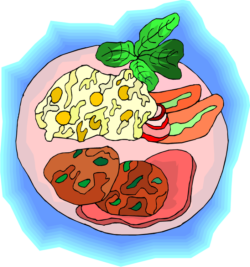 So I thought today I'd talk to you about something I don't really talk about a lot here, because it isn't exactly on topic: cooking competition shows.
Sometimes it's hard for our family to decide what we want to watch – personally I am very into classic movies, but that's something my son doesn't enjoy… likewise, I love true crime television… but my son doesn't like that either. My husband doesn't like comedies, and I'm not really interested in "action" type television or movies. My daughter is easy to please – she will watch lots of different types of shows. When we all get together, there is one thing we all tend to agree with: cooking competitions.
The show we probably watch the most (and enjoy the most) is Chopped. In Chopped, the theme is that contestants have to cook a dish using 4 secret ingredients – usually strange ingredients that generally wouldn't be used together. The biggest draw here is the host and judges – they've been working together long enough now that they have an effortless interaction that makes watching the show very enjoyable. A lot of the time it seems like they are actually friends off-camera, in real life. However, even if they aren't friends, they at least seem like very good "work friends". I suppose it isn't a surprise that we've come to know the hosts pretty well – according to Wikipedia, there have been over 300 episodes of Chopped released since its debut in 2009! Yikes, that's a lot – and it wouldn't surprise me to learn that my family has seen all of them except a few of the more recent still on our recording device!
We also like Food Network Star (formerly The Next Food Network Star) for almost entirely opposite reasons… this is a show where promising hopefuls audition to get a show on the Food Network. Here you get to know and learn about the people who might be the next up-and-coming "star" on the Food Network. While many of the careers of these "stars" haven't really taken off, it serves as a really interesting launching off point for the winners.
Finally, while we've watched our share of MasterChef, I personally have a particular soft spot for MasterChef Junior… as you might guess from the name, a cooking competition for children between the ages of 8 and 13. I'm not a great cook, so it's absolutely amazing to see the sort of complicated and demanding dishes that these children are able to put together, and the obvious delight that even hardened Gordon Ramsey has when interacting with them is fun to see.
So, does anyone else share my enjoyment of cooking shows? If so, which do you particularly enjoy?