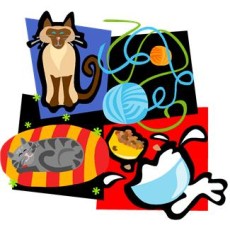 Earlier this month I posted an entry about Sofie Kelly's series featuring the first book in her Magical Cats Mystery Series, Curiosity Thrilled the Cat. So I thought I'd ask if you all can think of any authors who are similar to Sofie Kelly.
I have tried to remember who mentioned (in a comment) that she is reading Sofie Kelly's Magical Cats now because she has finished Lilian Jackson Braun's The Cat Who … series. (I meant to write it down, and as I have said many times, I have to annotate everything if I want to be able to pull it out of my memory banks!) So, I have started the list with Braun's series.
In your recommendation, please be sure to include why you think that they are similar to Sofie Kelly! Thanks!
Authors who are similar to Sofie Kelly (aka Sofie Ryan):
Lilian Jackson Braun: The Cat Who … Mystery Series
Ali Brandon (aka Diane A.S. Stuckart): Black Cat Bookshop Mystery Series
Rita Mae Brown: Mrs. Murphy Mystery Series
Laurie Cass (aka Laura Alden): Bookmobile Mystery Series
Claire Donally: Sunny & Shadow Mystery Series
Carole Nelson Douglas: Midnight Louie Mystery Series
Kay Finch: Bad Luck Cat Mystery Series
Rebecca M. Hale: Cats and Curios Mystery Series
Delia James: Witch's Cat Mystery Series
Miranda James (aka Jimmie Ruth Evans, Honor Hartman, & Dean James): Cat in the Stacks Mystery Series
Mulgray Twins: DJ Smith and Gorgonzola Mission Mystery Series
Shirley Rousseau Murphy: Joe Grey Cat Mystery Series
Fran Stewart: Biscuit McKee & Marmalade Mystery Series
Sofie Ryan (aka Sofie Kelly): Second Chance Cat Mystery Series
Leann Sweeney: Cats in Trouble Mystery Series
P.S. I have several other "Authors Similar to …" lists on the Cozy Mysteries by Theme page on my site.