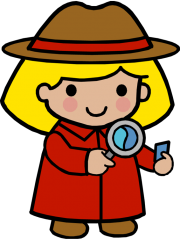 Recently I've noticed that I am not solving a lot of the crimes in the Cozy Mystery books I read. For some reason, the person who committed the crime comes as a total surprise to me.
I sometimes find myself making a conscious decision to solve the mystery using all of the clues the sleuth has provided (through the author). However, I have to admit that a lot of the time the culprit is someone I absolutely had no idea would be the person responsible for the awful deed. Yikes! Am I losing my Cozy Mystery deducing skills, or am I just getting lazy?
This got me thinking >>> surely I'm not the only one who sometimes is totally surprised by the culprit. Other Cozy Mystery readers must have the same thing going-on. I should add that I'm not talking about the Cozies where not only do you know the culprit of the crime, but you also know the victim five or six chapters before the crime was committed. I'm sure lots (if not all!) of you have read a few of those books! (Yikes! We're not all clairvoyants, yet there are some books that leave us feeling like we are!) Nor am I talking about the mysteries where a character is introduced at the very end of the book, since the author wants that character to be the "surprise" culprit.
I'm talking about the Cozy Mysteries where you go along with the sleuth, as she/he sleuths around the community. You actually pay attention to all of the information the sleuth becomes aware of, and you try to figure out, along with the sleuth, who was responsible for the crime. It bothers me that I'm just not very good at this, and I wonder if everyone else is!
Is this a skill you lose if you read too many Cozy Mysteries? Are the Cozy Mystery authors not providing enough clues to make the mystery solvable? Or, is it just me?
So I'm asking:
Are you actually able to solve the mystery through all of the author's clues?
Please leave a comment if you are able to solve most of the mysteries you read before the author does the big reveal. Also, leave a comment if you are like me, and find this skill something which you don't have! Thanks!