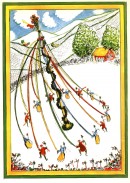 It seems like we were just celebrating the end-of-year holidays, and already it's May! My mind set would have the picture on the left showing the citizens of Who-ville singing "Fahoo fores. dahoo dores, Welcome all Whos far and near"!
Our neighborhood is already having their "first-Saturday-in-May garage sale" and they are getting the neighborhood pool ready for the May weekend hours. That's a sure sign that it is almost summer out here.
I don't know why I am having such a difficult time believing that it is already May, though. The hot, humid (H & H) weather is already upon us here in San Antonio. It is only a matter of time before I quickly get the correct picture in my head…
Even Sprite (our 15 year old puppy) knows that it's almost summer. There is a time right before the H & H hits us that she enjoys going outside to just stand on the grass (which she is allergic to!) and sniff all of the smells in the (very few) breezes that we get. Of course these days she sometimes loses her train of thought when she goes outside even in the H & H and just stands on the grass looking around… sort of wondering why she is out there.
The one really good thing about May for us is that our daughter will be coming home after her exams, before she heads off to her summer internship. So, all of the H & H is well worth it! I just hope it's not too H & H for the one week she will be home…
PS >>> Foyle's War starts a new season this week on PBS… Make sure to check your local TV listings!