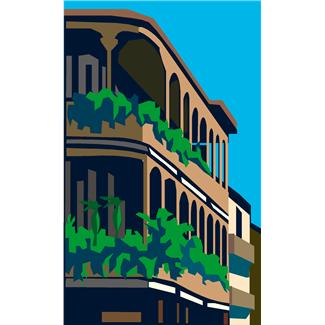 Well, I'm not quite sure that we conquered, but we did do a lot of searching. We stayed downtown in New Orleans and drove out to the two areas where we concentrated our search for our daughter's future apartment/home. She'll only be in the area for a year, so we want to find a place where she can focus on enjoying the city rather than having to worry about safety. (Actually, being a young adult, I rather doubt she worries about her safety as much as my husband and I do.)
I have mentioned a few times that San Antonio is in a rather constant state of drought. As we headed east on the interstate, we enjoyed the lush springtime green that we have missed seeing for quite a while now. We were treated to magnificent Bluebonnets and Indian Paintbrushes (orange), with a sprinkling of pink Primroses (I think that's what they are called), all of which were constant reminders of Lady Bird Johnson's Texas beautification project. Thank you, Lady Bird, for a job well done! The flowers are truly sights to be enjoyed by ALL.
We also were happy to see tall, tall, green trees. Out in San Antonio, there are not very many areas where we can enjoy tall, green trees. Our area has many gnarly, short, sort of dark green-leaf oak trees, which is why my husband and I immediately planted six Monterrey Oaks on our lot when we moved here.
As we passed through Houston I thought (very fondly) of when we met my daughter's college roommate. She was a sweet teenager, ready to take on the world. She is now a married woman living in this bustling city, with her PhD in Petroleum Engineering, working for a large oil company. Brava to her! She just got married, and she looked absolutely radiant in her wedding dress. Where has the time gone?
Oh, I almost forgot, as we drove through Baton Rouge, Louisiana, I was surprised to see a Dalrymple Drive sign. Yes, even spelled the same way as Carola Dunn's Daisy's surname. A neat reminder of my very favorite mystery genre.