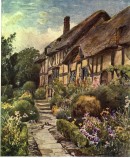 This is a list of the mystery authors whose last names begin with J, K, L, M, and N who happen to write mysteries that take place in Great Britain. I realize that there are many more authors who write British mysteries, but I am only including the authors who are on the Cozy Mystery site. Also, as I have said before, not all of the authors who write British mysteries are actually British…
D.E. Ireland: Eliza Doolittle & Henry Higgins Mystery Series, based on the George Bernard Shaw Pygmalion characters.
P. D. James: Very British… Adam Dalgliesh, the Scotland Yard poet, and Cornelia Gray, the heir to a detective agency.
Morag Joss: Sara Selkirk Mystery Series – Sara is a world renown cellist.
Julie Kaewert: Her Booklovers' series is set in London.
Diana Killian: Although her sleuth is from the USA, she goes to England to fulfill her passion for the English romantic poets.
Laurie R. King:  The Mary Russell Mystery Series features Mary, protégée of Sherlock Holmes.
Peter King: A gourmet detective series and a series that features Jack London.
Kate Kingsbury: One of her series takes place during WW II and the other during the early 1900s.
Janet Laurence: She has two series to pick from, one features a 1700s painter and the other series' sleuth is a caterer.
John le Carré: He pens the George Smiley series, as well as many stand-alones.
Margaret Leek (aka Sara Woods, Mary Challis, & Anne Burton): Stephen Marryat is a barrister.
Gillian Linscott: Her Nell Bray series features a suffragette, and her other series has an ex-cop.
Catherine Lloyd: The Kurland St. Mary Mystery Series stars the daughter of a vicar in a small English town in the 1810s.
Marianne Macdonald: Her Dido Hoare Mystery Series used to be called the Antiquanarian Book Mystery Series.
Susan Elia MacNeal writes the Maggie Hope Mystery Series. Although Maggie is from the USA, the series takes place in London during the 1940s.
Ngaio Marsh: Her Detective Alleyn series is a long time favorite of cozy readers.
Edward Marston: Several British (as well as non-British) series to choose from.
Sarah J. Mason: The third (and as of this writing, final) author to pen the Miss Emily Seeton novels, and also, she pens another series that takes place in England.
Jill McGown: Her series involves an inspector and chief inspector in England.
Catriona McPherson: The Dandy Gilver Mystery Series is set in Scotland during the 1920s.
Gladys Mitchell (aka Malcolm Torrie): She penned many Mrs. Bradley novels.
Gilbert Morris: Lady Trent Mystery Series
John Mortimer: The Rumpole of the Bailey series
Patricia Moyes: Scotland Yard Inspector Henry Tibbett
Amy Myers: Her Auguste Didier is a chef in the mid to late 1800s London, and Peter Marsh is an ex-policeman in England.
Janet Neel: Her series takes place in London.
Other British lists:
Authors beginning with E, F, G, & H
Authors beginning with P, R, & S
Authors beginning with T , U, & W
***To access more Cozy Mysteries by Theme click on this link.***