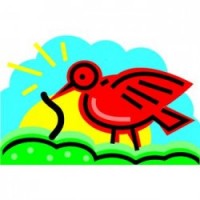 I'm not sure whether I'm in a ranting or raving mood right now! (Oh, and I want to warn you, this has absolutely nothing to do with Cozy Mysteries.)
I just got back from the grocery store where I found out they no longer carry my Goldfinch nyjer thistle. Doggone it! I hate it when my grocery store just stops carrying items. We have a grocery store monopoly (of sorts) down here in San Antonio. Good grief, I'm not happy about this! (And by "this" I mean the grocery store monopoly as well as the discontinuance of the thistle!)
Those of you who have been with me for a few years know that after our beloved 16 1/2 year old puppy left us, I was pretty sad. When she left, it was sort of a changing of eras for me. Sprite had grown up with our children. She had seen them from elementary school all the way through college. She was an integral part of our family.
We decided not to rush out and get a new puppy, and just see how things went. I have to admit that we didn't miss taking her on daily walks in +/- 100° with high humidity, finding new methods of trying to get her to keep down her medicine, or having to get home after being out four hours.  Long story >>> short, I ended up moving my computer so that I can look out on our back yard and I put up bird feeders and a big bird bath. Obviously, watching birds didn't take Sprite's place, but I truly enjoyed all of the daily shows the birds put on for me.
Unfortunately, we also ended up attracting squirrels, which were attracted to the seeds and water, but seemed to prefer our house's wood. We had to repair our house four times. Four times was the charm: I got rid of the seeds and the water. (Many of our neighbors were feeding the birds, which helped alleviate my guilt.)
I missed the daily bird shows, especially when they brought their fledglings and taught them how to take off, land, and eat on their own. Sometimes there would be dozens of the little fledglings hip-hopping all over the ground under the feeders. They certainly didn't take the place of a puppy, but they had been fun to watch, and I missed that.
A few months ago, someone commented (right here) about something called seed hoops. I decided to put up a Goldfinch feeder with a 16″ seed hoop and see if it worked. We already had squirrel-proof poles so I just attached the seed hoop to the hanger. And guess what >>> they work! They totally keep the seeds off of the ground!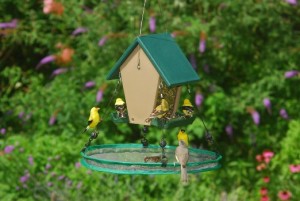 Now I get to watch the little Goldfinches bicker with each other over which of them will get a perch. Every once in a while a squirrel will pass through our yard, but we no longer have them nesting here. Ya-hoo!
So I guess I'm ranting about our grocery store dropping the nyger thistle (which I just bought on line) and I'm raving about these seed hoops. (I'm also wondering why on earth I didn't come up with something as practical and totally obvious as a seed hoop!)