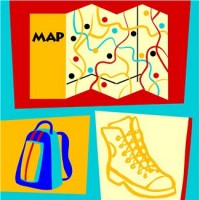 The other day, Monica asked this question:
Do you know of any cozy mysteries that have their heroines camping or backpacking?
Nevada Barr: Anna Pigeon Mystery Series (Anna is a park service ranger.)
Jill Churchill: Fear of Frying (from her Jane Jeffry Mystery Series)
Kate Dyer-Seeley (aka Ellie Alexander): Pacific Northwest Mystery Series
Jeanne Glidewell: Cozy Camping (from her Lexie Starr Mystery Series)
Beth Groundwater: Rocky Mountain Outdoor Adventures Mystery Series (not strictly camping/backpacking mysteries, lots of outdoor adventures – hiking, white-water rafting, climbing, etc.). Readers that enjoy an outdoorsy theme
Sue Henry: Murder on the Iditarod Trail (from her Alaska Mystery Series)
Sue Henry: Maxie and Stretch Mystery Series (Maxie is a widow who travels around in her RV with her Mini Dachshund, Stretch.)
So, if you do, would you please post a comment?
Here are some more authors with Camping Mystery Series:
L. D. Knorr: RV Mystery Series
E. D. MacDavey: RV Travel Mystery Series
Karen Musser Nortman: Frannie Shoemaker Campground Mystery Series
Karen Musser Nortman
Frannie Shoemaker Campground Mystery Series:
1. Bats and Bones
2. The Blue Coyote
3. The Lady of the Lake
M.L. Rowland
Search and Rescue Mystery Series:
♦To access more Cozy Mysteries by Theme click on this link.♦