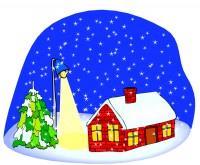 I am hoping that everyone of you is enjoying this time of the year, when people seem to be on their very best behavior.
It's the time of year for reflection… Have we been naughty or nice? Have there been times when we have been lazy about helping others? Have we made a difference to others?
As I ask myself these questions, I think about the people who have made a difference in my life, and I am truly thankful. I know that as I get older, I am becoming more impatient with what I consider incompetence. I do, however, try to curb my tongue and not let that impatience show… at least not too often!
So, I am going to set aside some time to reflect on this question: Have I been naughty or nice? And, if the answer is nice with a little naughty thrown in, what can I do to not have that very same dilemma next year?