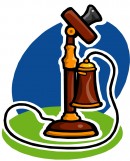 So many people are "into" antiquing these days, so what better profession for some of our favorite cozy mystery authors to use in their story lines? I live in an area of the country where the antiquing business is truly thriving. A lot of the little towns that surround San Antonio seem to be comprised of one antique shop after the other. So I decided, why not make a list of mysteries that use antiques in some way? (Again, I am working off of my alphabetical lists of authors…. but, if you know of another cozy mystery author who uses the antiques theme, please drop me a comment… The comment button is found under this blog, right below a faint grey line…)
Barbara Allan is a husband and wife writing team (Max Allan and Barbara Collins)… and she (they?) write the Trash 'n Treasure Mystery Series. The first book in the series is Antiques Roadkill. The second in the series is a Halloween book… Antiques Maul.
Madelyn Alt writes the Bewitching Mystery Series, which features Maggie O'Neill, an empath, who works in an antique store in Indiana. Felicity Dow, the owner of Enchantments (antique store, plus more!) is not only Maggie's boss, but also joins in on the sleuthing… when it's needed, of course!
Mary Kay Andrews (aka Kathy Hogan Trochek) writes the Weezie and Bebe Mystery Series, which features two divorced women living in Savannah. One, Weezie, is an antique dealer and the other, (obviously BeBe) owns a restaurant.
Annie's Antique Shop Mystery Series Maggie Watson is a widow and the owner of an antiques shop and colonial mansion in Harbor, Maine.
Kathleen Bridge writes the Hamptons Home & Garden Mystery Series, featuring Meg Barrett, a former Home & Gardens writer with significant experience with antiques.
The Domestic Bliss Mystery Series is written by Leslie Caine  (aka Leslie O'Kane.) It is actually not about antique dealers or antique store owners, but is set in the world of interior design, which of course, involves antiques. The two main characters are cleverly named (Erin) Gilbert and (Steve) Sullivan.
Antique dealer Annie O'Hara is left owning a German Shepherd/Siberian Huskie named Claudius in the mystery series Ann Campbell writes. In the Annie O'Hara & Claudius Mystery Series, Annie finds herself looking for antiques and clues to solve her mysteries, and don't forget the how-to-train-your-alpha-dog manuals!
Jane K. Cleland writes the Antiques Roadshow Mystery Series, which features an ex-New Yorker who transplants herself to New Hampshire in order to get her life back on track, but ends up tracking clues!
Rae Davies writes the Dusty Deals Mystery Series, which stars a former reporter turned antiques dealer.
Patricia Driscoll: Grace Oliver Mystery Series – Grace is an ex-probation officer who owns an antique lamp shop on Cape Cod.
The Jane Wheel Mystery Series is written by  Sharon Fiffer. It features an antique dealer who frequents estate sales and rummage sales, when she's not following up on leads that will solve her mysteries.
Elaine Flinn was actually an antique dealer before she starting writing her Molly Doyle Mystery Series. Molly runs the Treasure Antiques store and has a (knick-)knack for solving mysteries.
Jonathan Gash (John Grant) is a medical doctor by training who writes the Lovejoy Mystery Series. Lovejoy is an antiques dealer, but unfortunately, he is also a thief! And, yes, the BBC Lovejoy television series of nine years was based on these novels.
Elise Hyatt writes the Daring Finds Mystery Series which features Dyce Dare, a sleuth who owns a furniture refinishing business…
The Sterling Glass Mystery Series is written by Emyl Jenkins, who has written several non-fiction books about antiques and even a cookbook (among her other books.)  Sterling is a syndicated columnist and also an antique appraiser, who not only has her eyes on the antiques and clues, but also on a certain single Episcopalian priest!
The Antique Lovers' Mystery Series is written by  Deborah Morgan.  It features an ex-FBI agent who now dedicates his life to finding antiques to buy and then resell (for a profit, of course!) and also to finding the culprits of mysteries.
The Mysteries of Silver Peak Mystery Series is a Cozy Mystery series written by Carole Jefferson, and published by Guideposts. Sadie Speers is the sleuth and she owns an antiques shop in Silver Peak, Colorado.
Cate Price write the Deadly Notions Mystery Series. Daisy Buchanan is a retired teacher who currently manages the Great Notion Sewing and Antiques Shop in a quaint town in Pennsylvania.
J. B. Stanley  writes two cozy mystery series… One of them is the Collectible Mystery Series which features a reporter who solves mysteries in and out of antique shows. She is currently re-releasing this series as Ellery Adams.
The Shadows Antique Print Mystery Series is  Lea Wait's mystery series for adults. (She also writes historical novels for children.) Maggie Summer is an antique print dealer who also can deal with clues in a very effective manner!
PS…. Since I know that some of you print these cozy-by-profession blogs, I am going to add a comment from a very good cozy-mystery-reading friend of mine to this original blog, so that you get the benefit of this author, also. I don't know how I forgot to add her on this list!
On October 2, 2007, Cora wrote:
Danna,
Another antique shop series is the Den of Antiquity series written by Tamar Myers. Her character is Abigail Timberlake who first owns an antique shop in Charlotte, NC. Later in the series she moves the shop to Charleston, SC.
And, here is yet another "antiquing," (sort of!) series… It is actually not antiquing, but does involve searching for just the right buys:  Sharon Dunn writes the Bargain Hunters Mystery Series.
***To access more Cozy Mysteries by Theme click on this link.***