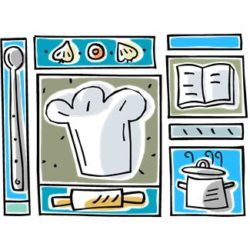 As the title of this entry says, I'm not talking about mysteries today since I don't have anything Cozy-Mystery-ish to complain about. This has to do with something I am missing. (I've been trying to limit my Rants and Raves, but this really grinds me!)
As I have said many times before, I don't particularly enjoy baking/cooking. I take every short cut I can when it comes to feeding my family. For holiday meals I serve Stove Top dressing, doctored with lots of onions, celery, and chicken broth. Oh, and I don't make the chicken broth myself, rather I depend on Swanson to do the tedious work involved in making it. As for my creamed onions, frozen Birds Eye pearl onions are my staple >>> I skip all the onion-preparations my grandmother did.
Well, to get on with my rant…
Years ago, my husband bought me a bread machine – since he loves freshly baked bread. I remember telling him he had better learn how to use it, since I did NOT plan on making bread. I didn't even make room for it on our kitchen counter… that's how determined I was NOT to use it. I think I finally relented on his birthday, and went ahead and made a loaf of bread, and I've been hooked ever since! So much so that when my old machine "wore out" I bought a new Oster bread machine four years ago.
The reason for my rant is that I can no longer find the boxed bread mixes for bread machines that we like. I know I have complained about San Antonio now having a monopoly grocery store in town. (H.E.B. ran all the other grocery stores out of town with bottom-low prices,  and upon getting rid of their competition, quickly raised their prices. >>> But that's another story…)
Apparently people no longer use bread machines – but prefer to use either their hands or their mixers with dough hooks. Not me! I like the add-a-cup-of-water-top-with-mix-then-the-yeast method, where I go about my other business while the bread machine does the work.
Anyway, I get quite miffed when things that I really like >> such as easy bread machine mixes, are no longer available in my local grocery store.  How about you — are things you used to use all the time no longer available in your local store?
P.S. Thank goodness for the grocery sections in my Walmart and Target!