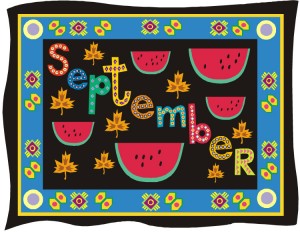 Happy September!
It's difficult to believe that autumn is almost here. I know that much of the country is experiencing terrible weather, in one form or another. I am hoping that September will be the month that gets us back to "normal."
My birds and squirrels have clearly been having an awful summer. I think they are ready for autumn, as am I! The poor little squirrels lay on the hot ground with their legs sprawled out to their sides. They remind me of Sprite when she was young… She would lay on the wood floor during the summer and enjoy its coolness. (Is that even a word?)
Even with the weather not cooperating, I have been enjoying the summer even more because my daughter was home for a longer time than she has been. She is heading back to the east coast pretty soon, so I am already wondering what I am going to do without her… She is one of my very best-est friends in the world, and I miss her already! (And, she hasn't even left yet!)
I hope September is a great month for all of you!