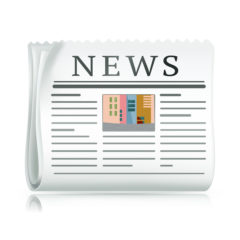 It seems like sometimes we hear more about Cozy Mystery Series that have been cancelled than about series that are thriving. So here is a "What's the Cozy News?" entry that will hopefully bring some good news to most of us!
Ellery Adams (aka J.B. Stanley, Jennifer Stanley, and Lucy Arlington) has announced that her Charmed Pie Shoppe will be closing its doors after the latest book in the series, Breach of Crust. However there's good news about her Book Retreat Mystery Series – it will be moving from Penguin-Random to Kensington Publishers. Also, Ellery Adams will be starting a new series  (The Secret Book and Scone Society) with Kensington in late 2017.
I know a lot of Cozy Mystery readers were upset when Melissa Bourbon's Magical Dressmaking Series ended. Well, here's some great news: Winnie Archer (aka Melissa Bourbon and Misa Ramirez) will be starting a new Cozy Series called the Bread Shop Mystery Series. Kneaded to Death is the first book in the series, and we will be introduced to Ivy Culpepper (our sleuth) who is an aspiring photographer who ends up working in the Yeast of Eden bread shop. The series will be set in a seaside town (Santa Sofia) in California.
Lynn Cahoon is a New York Times and USA Today bestselling author, which explains why Kensington is planning on releasing more Cozies in her very popular Tourist Trap Mystery Series. Brava!
Good news for Maia Chance fans! The Crooked Lane publishing company will be releasing Maia Chance's Agnes and Effie Mystery Series, of which Bad Housekeeping is the first. This series will star a "dork" and her great aunt (who happens to have been a fashion model) in a New York town.
The Crooked Land publishers are bringing us even more Cozies! Sheila Connolly (aka Sarah Atwell) has a "snowbound" County Cork Mystery Series that will be coming out soon (Cruel Winter) and … wait for it… there's at least one more to look forward to after that one!
Here's more good news! We can expect at least a few more Mystery with Recipes Cozies from Isis Crawford (aka Barbara Block). Yes, that's right, Kensington has given her series the green light!
A new Cozy series by Maddie Day (aka Edith Maxwell and Tace Baker) is on the horizon. Day's Cozy Capers Book Group Mystery Series will feature the owner of a bike shop who holds a weekly mystery book group – which exclusively reads Cozies. (My type of reading group!) Murder on Cape Cod is the first book in the series.
Amanda Flower (aka Isabella Alan) has two new Cozy Mystery Series for us to look forward to. Flower's Forgotten Cozy Mystery Series will feature  a florist sleuth who inherits a Scottish Highlands' cottage. Death at Duncreigan is the first in the series. Flowers is also beginning her Amish Candy Shop Mystery Series which will feature a chocolatier who works at her grandparents' Swissmen Sweets Amish Candy Shop in Harvest, Ohio. And, yum! Recipes are included in this series. Assaulted Caramel is the first Cozy in the series.
Nancy J. Parra (aka Nancy Coco and Nell Hampton) will be starting her new Wine Country Mystery Series. A Case of Syrah, Syrah is the first in the series. (We can thank the Crooked Lane publishers for this series, too!)
Rose Pressey has been given the go-ahead on book 6 and 7 in her Haunted Vintage Mystery Series. If you aren't already familiar with this series, it is set in Georgia and features a sleuth with a passion for vintage clothing!
Now this is great news! It looks like Denise Swanson will be kept busy writing Cozies! Swanson (a New York Times bestselling author) will begin a new series – the Chef-to-Go Mystery Series – with at least three books in it. Also, she will be writing the Welcome Back to Scumble River Mystery Series, beginning with book #1, Dead in the Water.
If you're a Hannah Ives fan, then you'll be very happy to know that Marcia Talley's 16th book in that series (Mile High Murder) will be released.
And last (but by no means least!) there's terrific Charles Todd news! We can expect more Bess Crawford and Ian Rutledge mysteries! (I told you it was terrific!)
And that's a wrap!