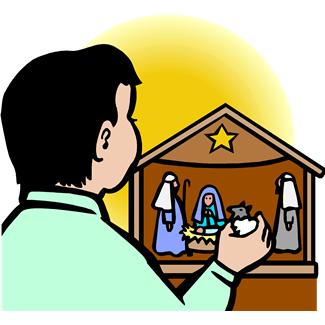 Since we have just two more days before Christmas,  I thought I would post an entry that Alfred suggested.  I am guessing that by this time, most of you have everything pretty much organized for Christmas. You have prepared your surroundings the way you want them, you have your menu planned, and you know which functions and/or services you will be attending to celebrate Christmas. What better time to ask Alfred's question:
Danna, was wondering about asking readers if they have any particular ornaments or decorations that just have to go out to make the Christmas Holiday special for them.   I have four items that we put out – will tell you about them later but thought this might be a good column idea.
As I mentioned in my earlier entry, the holiday season for us just wouldn't be the same without my son's and daughter's hand-made ornaments and my daughter's hand-made Nativity. Sure, I have blown-glass ornaments, a china Nativity, and store-bought pine cone baskets and trees out in the garage, but we have found that we simply don't miss them.
Over the years I have been slowly cutting back on what we bring in from the garage. I have added more "Extra Christmas" descriptions to our bins out there. They are the bins that I just don't feel we need to bother with, which makes my husband pretty happy since he won't have help me bring them in or take them back out after the holidays.
Those are my "have to go out" items, Alfred. How about the rest of you? Do you have an item or two which you think turn your Christmas house into your Christmas home?