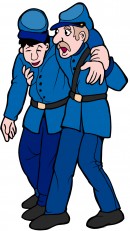 As I mentioned before, my husband and I went on a very short trip to visit our daughter. (She is interning in DC for the summer.) We lived out there when both our son and daughter were quite young, so we thought that it might be fun to go out and "show her around" the places we used to enjoy.
We lived in the DC area two different times. One of the times was a wonderful planned community called Columbia (in Maryland.) My husband commuted from Columbia to George Washington University for a year… which meant he had to go park his car in New Carrollton and then ride the metro downtown. That's quite a daily commute! But, we loved being close to both the DC and the Baltimore areas. The Baltimore Aquarium is one of the finest of its kind… anyway it was (+/-) 20 years ago, and as a "young" family, we loved our trips to the Baltimore Zoo.
For this visit, we actually flew into the Baltimore airport and stayed out in that vicinity, rather than try to get a hotel in downtown DC. As long as we were renting a car, we thought we might as well commute back and forth, either by rental car or metro. We definitely saved money by renting a car VS. the price of hotels in downtown DC! (And I'm not talking about five star hotel accommodations!)
I had forgotten what it is like living in a very large-city environment… having access to wonderful transportation like the metro. [They tried to pass a metro-type of deal here in San Antonio -years ago- which was quickly defeated by a lot of people who had never experienced the joys of metro transportation. I think that it was at about the same time there was a big push toward getting our water DE-fluoridated. (That's probably not a real word… but you probably can get the gist…)]
Anyway, back to our DC trip… It was so wonderful being in an area where you can drive less than two hours in any given direction and see something interesting.
We visited Gettysburg, Pennsylvania one day, and that was a truly emotional experience. If ever you go to the DC area, try to take the bus tour around the Gettysburg National Park. (Our tour guide is a teacher during the school year, and she was phenomenal!)
We took another day to visit a little (Maryland) town called Havre de Grace. I grew up listening to my grandmother talk about where she came from and thought that I would revisit this town, so that my daughter could get a sense of my grandmother. It is a beautiful town on the Susquehanna River – which flows into the Chesapeake Bay. We truly enjoyed the day. 
As you can see, we didn't do the "usual" things that people do when visiting the DC area, but, we did have an UNusually good time going off of the beaten path; immersing ourselves in both the history of our nation and the history of our family.