I received a really good idea for an entry from one of you, who wishes to remain anonymous. Actually, I think it's a really, really good idea, and would have loved to give credit to the person posing the question, but will go with what he/she asked.
"I was having a conversation with a mystery writer whose books feature an amateur sleuth. He mentioned he was thinking of killing her off a few books in, and having another younger (more interesting) character take over the crime solving business. Now my instinct as a reader was "No! Don't do it!", but I was really curious whether you or your readers knew if a mystery writer has gotten away with this successfully, or did it destroy the series. I don't mean spin-off series, but out-and-out remove the main sleuth permanently and replace with a whole different lead sleuth. What do you think?"
I don't know of any mystery series where the author has killed off the main sleuth and brought in a more "interesting" sleuth to take his/her place. I wonder just how boring (my word, not anybody else's) this particular author's main sleuth is. Is she/he boring to readers? (The sleuth, not the author!) Is he/she boring to just the author? Is this particular author's mystery series a well-known and well-established mystery series?
If this particular author's series is popular, my advice would be to: "Get over it! Don't tamper with success! Go get yourself a pseudonym and start another series with a more interesting (to you) main sleuth." (Many other authors are going the pseudonym route, so just join them. It makes it more difficult for the readers to keep the particular authors with pseudonyms straight, but apparently that doesn't seem to bother the authors. And, let's face it, with pseudonyms, if people don't like one of your series, they may still give another one of your series a try.)
I am one of those people who missed Captain Hastings when he moved to Argentina. Yes, I know he wasn't the main sleuth in Agatha Christie's Hercule Poirot Mystery Series, but he sure was a great secondary character. And as such, he added a lot to the series. Imagine, though, that Christie has gotten rid of Hercule instead, and made Hastings the sleuth. So much more exciting: a military hero and a gaucho, to boot! Can't get more "interesting" than that! Good thing Christie didn't, or we would be reading the Captain Hastings Mystery Series!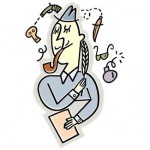 So, although I don't know of any successful mystery authors who have managed to pull the old bait and switch routine, I will agree with the person who sent me this entry's subject:
"No! Don't do it!"
Getting back to the actual topic of this entry:
"I was really curious whether you or your readers knew if a mystery writer has gotten away with this successfully, or did it destroy the series. I don't mean spin-off series, but out-and-out remove the main sleuth permanently and replace with a whole different lead sleuth. What do you think?"