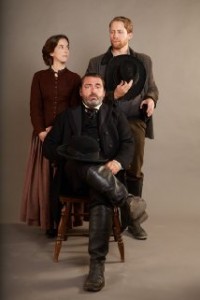 Way back in 1850, Allan Pinkerton started the very first private detective agency: the Pinkerton National Detective Agency. Their agents were simply known as "Pinkertons". The Pinkertons were highly regarded as both detectives and bodyguards.
This brings me to The Pinkertons, a delightfully humorous western mystery series from Canada. That's right >>> this is a Canadian import depicting life in Kansas City during the 1860s-1870s.
Mrs. Warne (Kate), played beautifully by Martha MacIsaac, is a Pinkerton based in Kansas City. She's smart and dedicated, a no-nonsense type of Pinkerton. When she receives a new case, she doesn't stop until she solves it. She is highly respected by Allan Pinkerton (Angus Macfadyen). This of course should be a great news, however because she's such a good Pinkerton agent, she is saddled with Allan Pinkerton's son, William (portrayed with great glee by Jacob Blair) as her partner.
The beginning of their pairing-up shows us just how much training William needs. While Kate's methodology includes evaluating the mystery and coming up with a plan of action, William's approach is sort of play-it-as-it-goes. Although William interjects the humor into the show, surprisingly, he is quite good at solving crimes. Let's face it, Allan Pinkerton is his father!
The show is set a few years after the Civil War so a lot of plots include Confederate vs. Yankee plot lines. It's interesting that the plots of the shows are based on real Pinkerton files from back then.
My husband & I have been watching The Pinkertons series on television as it airs. We both think it's a lot of fun to watch. I recommend the show but should warn some of you that every once in a while you may notice an "about" being pronounced as "aboot" – which doesn't bother us in the least. A good mystery show is well worth that, eh?
The Pinkertons is not available on Netflix. So if you're interested in seeing the shows, check your local television schedules OR you can take a look at this schedule they have on their site:
Also, if you would like to see a whole lot of other Cozy Mystery television and movie ideas, click on this link to go to my TV and Movie page. I have written quite a few entries about mystery themed shows and mysteries, as well as some Cozy non mystery themed shows/movies.